Eleanor Roosevelt once said that "Great minds discuss ideas, average minds discuss events and small minds discuss people" and three great men came together, discussed ideas, and founded one of the leading social media platforms and video sharing platforms, YouTube. YouTube has gained popularity over the years and I know you have interacted with it in one way or another either as a general viewer or a producer of content or even both.
Jawed Karim is one of the great minds behind YouTube. Read along to know more about him and his life journey up to where he is now.
Jawed Karim is a software engineer and entrepreneur of Bangladeshi German descent. Born on October 28th, 1979, Karim is one of the most accomplished people in the tech world having solved many technological problems using his skills. In Mersberg, East Germany, he was born to Naimul Karim, his Bangladeshi father, and Christine Karim, his German scientist mother.
While living in East Germany, the family experienced a lot of xenophobia which forced them to move several times to different places and eventually crossed the inner German border in the early 1980s in search of peaceful settlements. They first moved to West Germany but still struggled with xenophobia. The Karim's eventually settled in Minnesota in 1992.
Jawed's father worked at 3M as a researcher and his mother at the University of Minnesota as a scientist and associate professor specializing in biochemistry. Jawed has a younger brother called Ilias Karim who was born in 1989, ten years after himself.
EDUCATIONAL BACKGROUND OF JAWED KARIM
Jawed Karim was a student at Saint Paul Central High School which is the oldest high school in the state of Minnesota. He graduated from high school in 1997 and joined the University of Illinois at Urbana Champaign department. At the university, he was studying computer science.
Jawed was fortunate enough to work at Paypal from 2002 even before he graduated. He combined working and studying which shows how genius he is. He graduated with a bachelor's degree in computer science in 2004 and continued his studies a year later earning a master's degree in computer science from Stanford University.
Before working for Paypal, Jawed was an intern at Silicon Graphics which was an American high-performing company in silicon valley, San Francisco which is known for manufacturing both computer hardware and computer software. Jawed while interning, worked on 3D voxel data management, and created solutions to 3D Graphics problems.
TOP 3 ACHIEVEMENTS OF JAWED KARIM
HE IS THE CO-FOUNDER OF YOUTUBE. 
Jawed Karim co-founded YouTube, an online video sharing platform, together with Steven Chen and Chad Hurley in 2005. Jawed met the two while he was working at PayPal. Steven and Chad were interested in Jawed as they had heard about his excellent tech skills as he had invented PayPal's powerful anti-internet fraud system.
The YouTube concept was born but beginning the channel was not easy at first due to the many steps involved. The three YouTube founders were relieved when Sequoia Capital and Artis Capital, funded YouTube with 11.5 million and 8 million respectively, the developmental stages of the app and website were made easier. Money solves problems.
Jawed was the first person ever in the world to create a YouTube channel. He was also the first person to post a video. Both were done on 23rd April 2005. Jawed agreed to take a lower share in the company and remain as an informal adviser while studying instead of being an employee.
Jawed remains to be one of the shareholders of YouTube, a video sharing platform, with 137,443 shares of stock which were about $64 million at the time of purchase by Google in 2006. He is also one of the greatest advisers of YouTube to date.
Jawed Karim has updated the video description on his first video to "I can't comment here anymore, as I don't want a Google+ account".
He also pointed out the ability to easily and quickly identify bad content as an essential feature of a user-generated content platforms.
HE IS A TECHNOLOGY SPEAKER.
Ever since Jawed Karim was known to be one of the cofounders of YouTube, he has been invited to speak in many forums. In May 2008, YouTube Co-Founder Jawed Karim made his first public speech at the University of Illinois where he was invited to speak about the history of YouTube and how the YouTube concept was born in the May 2008 ACM Conference. He was later on announced as the 136th and youngest commencement speaker in the school's history.
To book Jawed Karim as the speaker of your next school or corporate event, click here to check his availability and charges. The topics he covers are based around Social Media, Robotics, Software, Technology, Venture Capital, Innovation, Hardware, Cybersecurity, E-commerce, YouTube, and many more. All things tech!!
HE IS THE FOUNDER OF Y VENTURES. 
Many people often ask, where is Jawed Karim today/now? Jawed Karim is focusing on his businesses.
Jawed Karim is an internet entrepreneur. He founded a venture fund investment group called Youniversity Ventures which is commonly known as Y Ventures. He founded it in March 2008 together with his partners Keith Rabois and Kevin Hartz.
Just in case you are wondering, Keith Rabois is also a partner at Khosla Ventures and Kevin Hartz is the co-founder of Eventbrite.
Y Ventures has invested in numerous growing companies such as Airbnb the hospitality service company, Reddit, Eventbrite, and Palantir, just to mention a few. The company aims to provide finances to university entrepreneurs and generally first-time entrepreneurs with great ideas.
Click here to have a look at Y Ventures' website and to read more about the work they are doing with companies they have funded and partnered with.
Did you know that Jawed Karim was one of the major voices behind Google plus delinking itself from YouTube? He was able to sensitize the YouTube community against having to use their real names as google plus users to comment on YouTube videos as they were already using google accounts. Google plus eventually shut down as security threats and low usage.
To be a member of the YouTube community and comment on YouTube today, you only need a google account.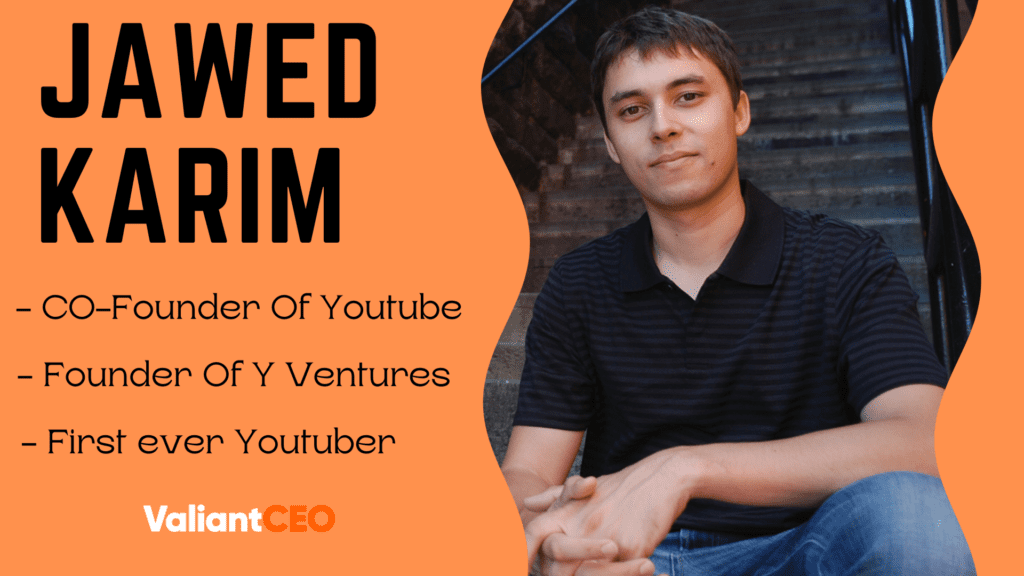 JAWED KARIM'S NET WORTH(2021)
Jawed Karim has a net worth of $190 million. He owns 137,443 shares of stock of youtube that if sold today by Google are worth over $140 million. His shares in addition to his other incomes such as that from his investment company, all add up to his net worth of $190 million as of 2021.
Jawed Karim lives in Palo Alto in California, United States. However, photos of where he lives let alone his house are not available to the public as he doesn't share them.
There is no clear information about his private life, wealth, like a car collection, due to his level of privacy. His wife and children are not known to the public. 
FREQUENTLY ASKED QUESTIONS ABOUT JAWED KARIM
Who was the very first YouTuber?
Jawed Karim was the very first YouTuber. He uploaded a video titled " Me at the zoo" on April 24th, 2005. The video was shot by his friend Yakov Lapitsky during a trip to the San Diego Zoo and in the video, he was explaining about an elephant's trunk with elephants in the background.
It is a 19-second video that has 170 million views as of 23rd June 2021. With only 1 video posted on his channel, it is surprising how he has up to 1.95 million subscribers today.
Who are the fathers of YouTube?
The YouTube concept was founded and implemented by three co-founders Jawed Karim, Steven Chen, and Chad Hurley. They were also the owners before they sold it to Google for $1.65 billion in stock in 2006. Jawed Karim, Steven Chen and Chad Hurley are the fathers of YouTube.
What is Jawed Karim's nationality?
Jawed Karim is of Bangladeshi German descent. His father Naimul Karim was Bangladeshi and his mother Christine Karim was German making Jawed half of both.
Jawed Karim has American citizenship.
After his father's tough experience with immigration, Jawed Karim founded an organization called the KarimImmigration which is a Canadian immigration firm that provides counsel and represents its clients worldwide. Individuals, families, and businesses are represented by the KarimImmigration firm.
Jawed Karim is among the multi-billionaire immigrants in the world.
Which languages does Jawed Karim speak?
Jawed Karim is multilingual. Apart from speaking fluently in English, he is also able to speak German and Bengali which are the national languages of Germany and Bangladesh respectively which he has origins from through his mother and father respectively.
What is Jawed Karim's age?
Jawed Karim was born on October 28th, 1979 making him 41 years old as of June 2021.
Who is Jawed Karim's wife?
There is no known information about Jawed Karim's private life as he has no social media platforms in which he shares his life with the public.
Rumors, however, state that Jawed Karim has a wife. He is in a relationship with Kia Abdulla who is a novelist hailing from the United Kingdom. Kia Abdulla is famous for authoring Child's Play which was published in 2009 and Life, Love, and Assimilation which was published in 2006.
Does Jawed Karim have children?
Just as the information about his girlfriend/wife is not clear, so are his children's, if any at all.
How tall is Jawed Karim?
Jawed Karim's height is 173 cm which is approximately 5 feet and 7 inches tall.
JAWED KARIM SOCIAL MEDIA PLATFORMS
Jawed Karim does not have any active social media accounts. Neither Instagram, nor Facebook, nor Twitter. The only account he has is a YouTube Channel that has been inactive with only one video that was uploaded in April 2005.
In 2020, Jawed Karim posted a poll on YouTube asking subscribers whether he should post a new video on his channel. The responses were overwhelming from the YouTube users. Many YouTube users who are his subscribers voted yes and are eagerly waiting for his next video upload on YouTube which they hope is soon.
"It wasn't like I wanted to be the next Marc Andreessen, but it would be cool to be in the same place."- Jawed Karim