Molly Bloom is an inspirational keynote speaker, entrepreneur, and the bestselling author of Molly's Game which was adapted into a film depicting her true life story. She was born on 21st April 1978 and grew up in Loveland, Colorado, in the United States with her father Larry Bloom who was a clinical psychologist and professor at Colorado State University.
Molly Bloom was a college student at the University of Colorado in Colorado, Boulder where she graduated with a Bachelor of Arts having majored in Political Science.
Molly Bloom is a former Olympic skier. Char Bloom, her mother, cultivated the love of skiing to Jeremy Bloom, her son, who was also a professional Olympic Skier, and Molly Bloom her daughter. Char was a ski and snowboard instructor and taught her children to ski from a very young age.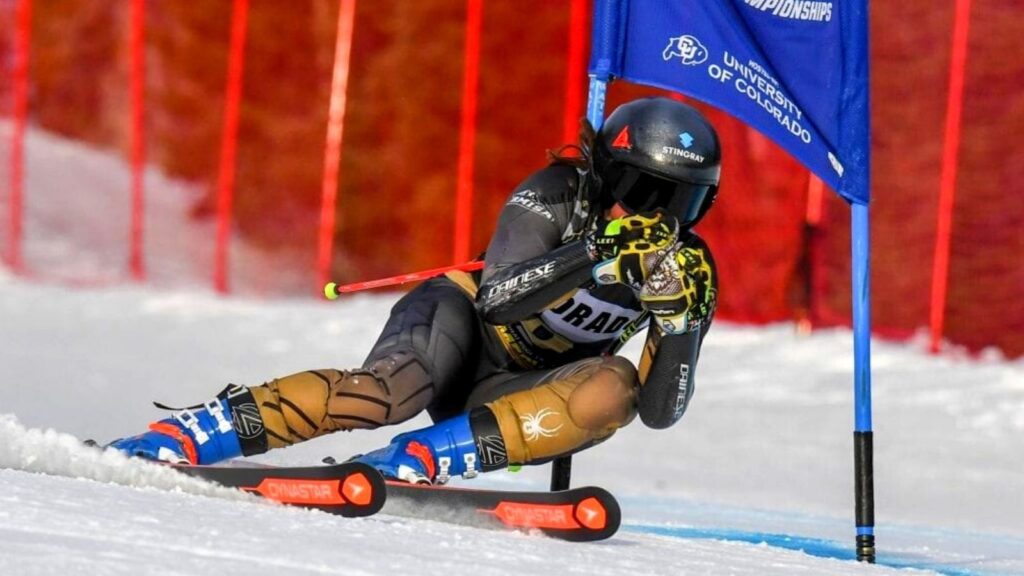 Molly Bloom once ranked third in the North American Cup for skiers which made her inch closer to realizing her Olympic dreams. She was very determined to be an Olympic champion but one day during her preparation and usual training for the Olympics as she was seeking to qualify, she suffered an injury that was so bad that she could not compete anymore in the Olympics or even ski competitively anywhere. That was the end of her athletic career.
Molly Bloom felt very unachieved as her brother had made it in the skiing world. She, therefore, decided to move out of their home.
MOLLY BLOOM AND THE POKER WORLD
Following her severe injury which shattered her Olympic dreams, Molly Bloom moved to Los Angeles, California in 2004. She worked as a bartender in many nightclubs but later on settled to permanently work for The Viper Room. On one night, Tobey Maguire, a celebrity, approached Darin Feinstein, one of the owners of The Viper Room, where Molly Bloom worked and they discussed hosting a poker game in the basement of the club.
Deals were done and the games were up and running in a few days. The then LA waitress, Molly Bloom, was put in charge of meeting the needs of the players like serving drinks and managing the game's environment. She slowly learned the ins and outs of the poker business, hosting and had made a network of poker players who used to tip her.
In 2007, Molly Bloom became an accidental entrepreneur of the underground poker game. She founded her events and catering company known as Molly Bloom Inc. She would host the poker tournaments in five-star hotels and bag thousands of dollars in a single night. Despite the recession of 2008, poker entrepreneur Molly Bloom was still able to host the tournaments in private luxurious homes and palatial suites with exquisite amenities such as The new Astor Place and Plaza Hotel in New York. It was business as usual for the business mogul.
Apart from actor Tobey Maguire who was among the first celebrities to play and participate in poker tournaments, Molly Bloom was able to draw many players who were Hollywood celebrities to the high-stake poker games in exclusive restaurants. Molly Bloom hosted the most exclusive poker game in Hollywood. Celebrities such as Leonardo DiCaprio, Alex Rodriguez, Mary Kate Olsen, and Ashley Olsen, Phil Ivey, Rick Salomon, Matt Damon, Dan Bilzerian ,Alec Gores among many others graced the poker tournaments and would play at least one high stakes poker game whenever they attended.
WHAT HAPPENED TO MOLLY BLOOM?
Molly Bloom's downfall began in 2010 where she was fined $116,133 for failing to pay taxes due on her New York events. From then things started falling apart for Hollywood's poker princess.
In 2011, one of Molly Bloom's games was closed down as one of the players, Bradley Ruderman, was running a Ponzi Scheme business; they were both taken in for questioning due to the numerous bank transactions between them. Bloom was however able to deny that she was involved in any of the player's illegal activities and was released with no charges.
No sooner had she escaped the charges than in April 2013, she was arrested once more with 33 others including Alec Gores, for taking part in underground poker game events. It was the Ponzi Scheme investigations that exposed her affairs and led to the eventual arrest and convictions. They all faced different charges but for Molly Bloom being the manager, she faced a maximum penalty of 10 years in prison, 6 years of supervision after release, a $1.5 million fine, and $200 for a special assessment.
A year later, in 2014, thanks to the advice of Jim Walden, Molly Bloom's lawyer, she pleaded guilty to the charges of practicing an illegal underground poker game and was therefore sentenced to one-year probation and was charged a fine of $1000. She also had to do community service for not less than 200 hours in the 1 year probation period.
Did Molly Bloom get her money back? Molly Bloom was left bankrupt and only with lessons that she decided to write about in a book. 
Molly Bloom published her first book called Molly's Game. It was published in 2014. It is a memoir of her life experience in the world of underground poker, running the highly sought-after high-stakes poker game in Hollywood where millions of dollars were won and lost by celebrities and business tycoons. 
In the book, she also talks about the lessons learned when her whole career as a poker tournaments manager came tumbling down after the US government got involved. 
Molly's soliloquy, which is a long unpunctuated sentence of consciousness, is found in the last chapter of Ulysses- a 1992 fictional novel by James Joyce. 
You can purchase her book, Molly's Game, on Amazon in paperback, hardcover, or Kindle form.
The book, Molly's Game, was adapted into a true story film called Molly's Game in September 2017. Aaron Sorkin, who is a skilled writer and known for adapting famous films such as To Kill A Mockingbird in 2018, wrote and directed Molly's Game. It premiered first in the Toronto International Film Festival.
In 2018, the movie was nominated in the 2018 Academy Award for the Best Adapted Screenplay category. Aaron Sorkin and Jessica Chastain received many nominations for awards thanks to the film.
 Aaron Sorkin was able to receive numerous nominations for example from the Golden Globes, Writers Guild of America Award, and BAFTA Awards for his screenplay while Jessica Chastain was nominated by Critics Choice Movie Award, Satellite Awards, and Golden Globe Awards just to mention a few. They won most of the awards. 
To read more about the list of accolades received by the film and their main characters, click here. 
Molly Bloom featured renowned actors in the film adapted from her book, Molly's Game as she knew that only the best could depict her story in the way she desired. Some of the main characters include:
Jessica Chastain played Molly Bloom.
Idris Elba played Charlie Jaffey, Molly's lawyer.
Kevin Costner played Larry Bloom
Michael Cera played Player X.
Jeremy Strong played Dan Keith.
Chris O'Dowd played Douglas Downey.
Brian D'Arcy played Bad Brad.
Today, Molly Bloom is a highly wanted inspirational keynote speaker. She has been invited to multiple shows and media outlets such as The Ellen Show, The Los Angeles Times, NPR, Vulture, and Fortune's Most Powerful Women to talk about her life and what she has learned so far. 
She often speaks to young entrepreneurs giving them solid tips and advice on how to market and increase sales on a business learned through her former poker game hosting business. She also speaks on cultivating a winning mindset and what it takes to win in life, sharing through her skiing experience. 
Molly Bloom is a real-life coach and if you are interested in inviting her to come and speak at your event and even virtual event, then be ready to cash out between $20,000 and $30,000 as that is one of the ways she makes a living. 
Molly Bloom and Simon Sinek, who are both bestselling authors, have been invited to speak at the AIME Fuse 2021. 
Click here to check Molly Bloom's availability. 
FREQUENTLY ASKED QUESTIONS ABOUT MOLLY BLOOM
How much is Molly Bloom worth?
As of 2021, Molly Bloom has a net worth of $500,000. It has been highly contributed by her book,  Molly's Game, which has been a bestseller, and her businesses. 
Where is Molly Bloom today?
Molly Bloom lives in Colorado. She did not throw in the towel despite everything that happened, she has picked herself up and is helping women get coworking spaces where they can thrive together as she is passionate about networking. Her initiative is known as The Full Bloom.
She is also a Keynote Motivational Speaker. 
Who is Molly Bloom's husband?
Molly Bloom is married to Devin Effinger, a neuroscientist. They got married in 2019 at Piney Lake, Colorado, after supposedly dating for one year. They reside in Colorado.
How much did Molly Bloom make from the movie?
Molly Bloom made $59.3 million from the movie which was adapted from her book, Molly's Game. 
Why is Molly Bloom not allowed in Canada?
Molly Bloom is not allowed in Canada because, under Canadian law related to immigration and refugee protection, anybody who has committed a crime related to gambling and betting is not permitted to enter the country unless fully cleared by the judiciary in the past 5 years. She will also have to seek a permit in case of a temporary stay request. 
Who is Player X in real life in the movie Molly's Game?
Player X in the movie has been speculated to be Tobey Maguire as he was highly influential in the real Molly Bloom life story about her poker career. 
Who is the real Bad Brad in Molly's Game?
The real Bad Brad in Molly's Game is Brian D'Arcy who is a phenomenal actor. He has starred in many movies including Shrek the Musical, X-Men: Dark Phoenix, and Spotlight.  
How did Molly Bloom make her money?
Molly Bloom made lots of money. She once said that the most she has made in a year was $4 million. She made money from tips from handsome leading men and players in the poker tournaments she hosted through her company. 
Unfortunately, she started nearly from scratch after she found herself on the bad side of the law as she had to pay fines and clear charges during the arrest period. 
FAMOUS QUOTES BY MOLLY BLOOM
"I approach everything, including sobriety, with the same mentality I approached sports with. You're going to put in the time. You've got to suit up, show up, and keep your eyes on the win."
"Life is about making choices, seeing those choices through, and living through consequences."
"You can tell a lot about a man's character by watching him win or lose money."