Andy Frisella, who is the CEO and founder of world-class health and fitness brands, Supplement Superstores and 1st Phorm is a highly sought-after public speaker who in every interview inspires and emphasizes the need for mental toughness to succeed in every sphere of life.
There is no greater agony than bearing an untold story inside you but Andy gracefully shares his inspiring journey. Read along to know how entrepreneur Andy Frisella rose to where he is now both as an entrepreneur with a personal brand and also as a leader.
BACKGROUND STORY TO ANDY FRISELLA'S RISE
Andy Frisella, who is world-renowned for his extraordinary entrepreneurial skills, dates his story back to his humble beginnings in his childhood days. He made his mark as a young entrepreneur at an early age when he used to sell lemonades and baseball caps to his neighbors, door to door. When interviewed, he often says that entrepreneurship runs in his blood. His father helped him deal with the negativity from his teachers and fellow students that said he was not good enough.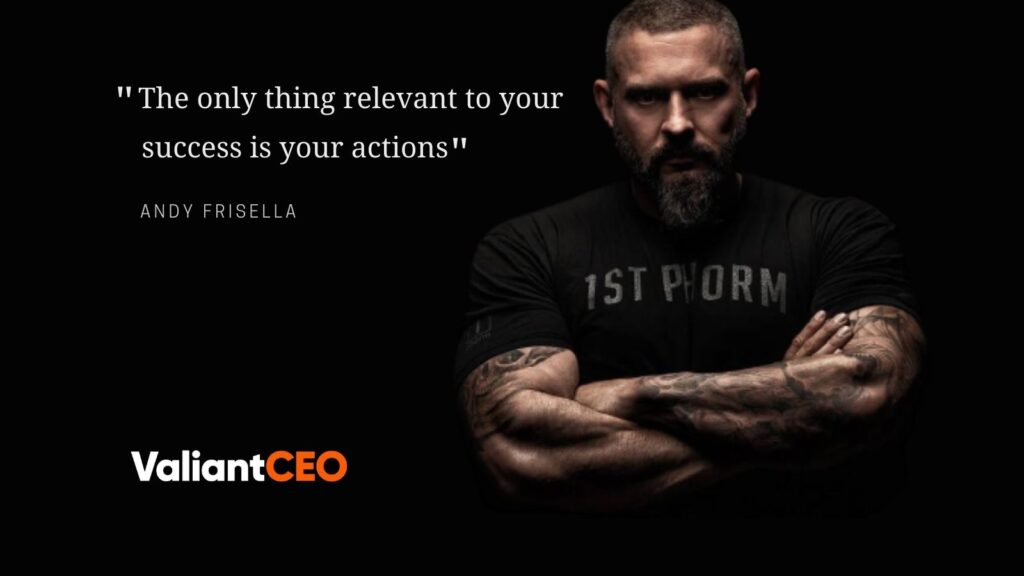 In his college days, that is his early 20's, he experienced a life-changing experience, one that changed his personal life and his perspective on life. When walking out one evening with his friend, he was stabbed in the face. This had him having to endure 160 stitches and a lifetime nerve damage on the face. To date, he still cannot feel anything on his face. He saw death come his way and after the experience, despite being depressed for a while, he found the motivation when (he met a burn survivor) to be someone great and to chase his goals.
Over 20 years ago and with a successful mindset, he founded his first company, Supplement Store,  a  vitamins and supplements store. With only $12,000, he and his business partner, Chris Klein who is the chief operating officer (COO) started their entrepreneurship journey. They rented a retail store with all the money they had, bought their first products using credit cards, and then embarked on their journey of direct-to-customer relationships.
Andy Frisella and Chris Klein daily went to people, marketing their brand, telling them what they offer and their benefits. They established a rapport with clients and made their brand home in people's hearts; this was one of the main attributes of their success. The Word-Of-Mouth form of marketing, which is a powerful tool for business growth, saw them skyrocket. Supplements Store was the word in everybody's mouth.
With the positive momentum, they gradually moved to the social media space, reaching out to clients and seeking feedback on their products. They knew the only way to grow was to focus less on the product and more on the customer hence understanding their needs and solving them. Their positive entrepreneurial values saw Supplement Stores grow over years both in terms of followers and profits, up to date they annually generate revenue of more than $100 million. They did not give up on their vision even when it seemed vague having faced financial challenges.
Andy Frisella is among the world's most influential people majoring in the business niche. With his many social relations on social media, he can draw many people not only to himself but also to products. At just a young age, Andy has accomplished many things. Some of his most famous achievements are:-
    He is a CEO and Founder.
Andy Frisella is a nutrition, fitness, and weight loss enthusiast. He is the CEO and Founder of Supplement Stores and 1st Phorm which are both leading nutritional supplements stores in the USA. They aid in one's fitness journey and compromise supplements such as Fat burning supplements and vitamins. 1st Phorm is also a world fitness brand that gives room for athletes to be sponsored and up to date, they have over 4000 influencers on social media.
Andy has also founded Alpine Sports products, Carbon Fire Nutrition, Paradise Distribution, and 44Seven Media all of which in total generate over $200 million sales in annual revenue. Andy's influential ability turns fans into customers for brands, he creates brand loyalty which is an important factor for brand success.
He has also co-founded many businesses and caused immense growth for them. Andy has surely set his feet as one of the world's leading authorities with his successful business ventures.
    Podcast Host of two podcasts.
Andy Frisella is the podcast host of The Real AF podcast and The MFCEO podcast.
The Real AF podcast is a raw and uncensored podcast which talks about real issues in this real world. It is an engaging podcast where hot topics are discussed Andy and debated among guests. This has made followers always look forward to "today's episode" on Andy's podcast. Andy is also a coach hence teaches through his podcast.
The MFCEO podcast is an inspirational podcast that covers mostly success and business-related content. It is among the Top 50 podcasts in the world with millions of listeners following the stories and advice shared.
Andy Frisella has been privileged to host great people on the podcast since 2015. From Gary Vaynerchuk to Lewis Howes and Dan Fleyshman who all have inspiring stories and have made great moves in the entrepreneurship world.
For hot button issues, and trending topics, podcasts follow Andy and get to learn, laugh, and grow!!!
    Best-selling author of books.
Andy Frisella has authored a total of 7 bestselling books. He has written 6 children's books and 1 self-help book.
Otis and Charley's Hardworking Tails, which is a children's book series consisting of 6 books, all encouraging children to work hard while they are young and discourages laziness. It is the kind of book you want your child to read!
75 Hard: A Tactful Guide to Winning the War within Yourself was published in the year 2020. This book will unlock your full potential and challenge your mindset and shift it to a more winning mindset.
You can buy Andy Frisella's books for yourself and/or your children from Amazon.
    He has been featured by many leading brands.
Andy Frisella is a highly sought-after person and brand influencer. He has been featured by big brands such as Forbes, Influencive, Entrepreneur, Motor Authority, NASDAQ, BBC's Top Gear, and Secret Entourage.
He has also been hosted by many podcasts and mainstream media and institutions where he shares his life experience and how to blossom in the world of businesses. He is among the highest-paid keynote speakers and coaches.
    Entrepreneur of the year award.
Andy Frisella is a business leader who was awarded the Entrepreneur of the year award in 2016. This is after his achievements were taken into account, his businesses and revenues from them which have amounted to more than $200 million per year.
His openness to sharing his real success in the entrepreneurial journey and inspiring the millennial generation through his social media platforms such as his podcast, Facebook, Instagram, and Twitter pages has seen him having many followers; for instance, he has up to 1.8 million followers on Instagram only.
He is a leader and coach.
Leadership is about solving problems. Andy Frisella leads his team at 1st Phorm International and Supplement Superstores in solving problems to do with weight loss, fitness, and nutrition in people.
ANDY FRISELLA'S ADVICE TO ENTREPRENEURS
Andy Frisella chooses to inspire, if he doesn't then who will? He once said in his podcast, The Real AF podcast, that entrepreneurship is about connecting with people and solving their problems.
He encouraged entrepreneurs to connect with their customers. Communicating with customers is the number one success mindset you should have to build your brand; so respond to those queries and seek feedback on how the product is and make improvements where necessary. Never be comfortable, when you lose focus, you lose the most powerful tool for thriving. This company culture has seen his company grow and if you follow the advice, you will also see real success.
He also urged all entrepreneurs that one of their biggest goals should be solving problems in the world. This Motivation will help them understand current issues and mitigate them hence bettering people's lives. For him, as he was starting The Supplements Store, he wanted to improve the overall health of people through his products. Leave a mark in people's hearts!
Andy Frisella is also famous for the "Power List" concept. To him, being productive and smashing your goals is as simple as setting daily goals. The power list involves writing a list of 5 things that you want to achieve per day. Oftentimes you can be too overwhelmed by the number of things you are to complete when you have a long list, but for the power list, prioritizing your top 5 tasks has been proven to work wonders. If you want to increase your net worth, follow Andy. It is as simple as that. Let's get those goals achieved!
FREQUENTLY ASKED QUESTIONS ABOUT ANDY FRISELLA
What is Andy Frisella's Net Worth?
Andy Frisella who is the CEO of 1st Phorm, podcaster, author, and speaker as of 2021 has an approximate net worth of $110 million.
What are Andy Frisella's age, height, and weight?
Andy Frisella was born on 29th September 1984. He is 182 centimeters tall that is approximately 5.9 feet and weighs 95 kilograms.
What does Andy Frisella do?
Andy Frisella as mentioned earlier is an entrepreneur, social media influencer, podcaster speaker, CEO, founder and author.
Who is Andy Frisella's Wife?
Andy Frisella is married to the one and only Emily Frisella. She is an Amazon-bestselling author of a cookbook called "The Fresh Farmhouse Kitchen: Clean-Eating Comfort Food". She is also an entrepreneur running four businesses.
Andy and Emily Frisella work together on several projects.
Does Andy Frisella have any children?
No, Andy Frisella does not have any children.
Who is Sal Frisella?
Sal Frisella is the Vice President of Operations at 1st Phorm which was founded by Andy Frisella.
Is 1st Phorm FDA approved?
1st Phorm is not FDA approved. This is because it is not a must that nutritional supplement companies be FDA approved in order to operate and supply supplements. 1st Phorm products however are manufactured in the USA in an FDA inspected facility.
Is 1st Phorm a multi-level marketing (MLM) company?
Yes, 1st Phorm International is a multi-level marketing company in the USA founded and owned by Andy Frisella.
Are 1st Phorm products sold in stores?
No. At the moment, 1st Phorm products can only be purchased online on their website and through brick and mortar retailers.
How much do 1st Phorm Athletes make?
Being a sponsored Athlete by 1st Phorm comes with many benefits. Some of the benefits include:
$50,000 a year.
A two-year signed contract as a 1st Phorm Elite Athlete.
Free Athlete Stacks each month.
What is the 75 Hard Challenge?
Andy Frisella once said that if you cannot control what you put in your mouth, you're not likely to control anything else in your life. In the 75 Hard challenge, which was founded by Andy, self-discipline is cultivated.
It is a mental and fitness challenge that involves following a specific set of rules for 75 days. Within the period, mental toughness and discipline ought to have been cultivated in the minds of participants.
Some of the rules set are: Working out twice a day, drinking 4 liters of water per day, reading 10 pages of a book per day and so much more. Click here to know more about the 75 hard challenge.
FAMOUS QUOTES BY ANDY FRISELLA
" The only thing relevant to your success is your actions"
"Instead of thinking how hard your journey is, think how great your story will be"
"99% of people let others beliefs and opinions keep them from ever living the life they want"
" Quit feeling sorry about yourself, make shit happen"
"You are the only one who can stop you"
#andyfrisellaquotes
ANDY FRISELLA'S SOCIAL MEDIA PLATFORMS
To follow more of the gems that Andy Frisella has to share, you can find him on:
The Real AF podcast- Click here to listen to Andy Frisella's podcasts.
Facebook- Click here to check out Andy Frisella's Facebook page.
Instagram- Click here to check out Andy Frisell's Instagram page.
YouTube- Click here to subscribe to Andy Frisella's Youtube Channel.
Pinterest- Click here to check out Andy Frisella's Pinterest page.