"It is much easier to put existing resources to better use, than to develop resources where they do not exist." – George Soros
George Soros, a name that resonates with both admiration and controversy, is a prominent figure in the realm of global finance and politics. Known for his extensive philanthropic efforts, successful investment strategies, and political activism, Soros has left an indelible mark on various sectors. This article explores the life and accomplishments of George Soros, delving into his philanthropic endeavors, investment philosophy, and political activism.
Formative Years and Background
Childhood in Hungary
George Soros was born in Budapest, Hungary, on August 12, 1930. He experienced the tumultuous events of World War II, including the Nazi occupation and the subsequent Communist regime. These experiences undoubtedly shaped his worldview and influenced his later philanthropic and political endeavors.
Education and Academic Pursuits
Soros pursued higher education at the London School of Economics (LSE). He studied under renowned philosopher Karl Popper, whose ideas about open societies and the philosophy of science greatly influenced Soros's future thinking. Soros earned a degree in philosophy and later a Ph.D. in economics.
Early Financial Career
After completing his studies, Soros embarked on a career in finance. He worked at various investment banks before establishing his own hedge fund firm, Soros Fund Management, in 1970. This marked the beginning of Soros's remarkable journey as a successful investor.
Humanitarian Initiatives
Open Society Foundations
One of Soros's most notable philanthropic endeavors is the establishment and funding of the Open Society Foundations (OSF). Founded in 1979, OSF aims to promote open societies, democracy, human rights, and social justice worldwide. The foundation supports various initiatives, organizations, and advocacy groups working to address issues such as education, healthcare, freedom of expression, and transparency.
Establishment and Objectives
Soros established OSF with the belief that open societies are essential for fostering democracy, protecting individual rights, and promoting progress. The foundation operates in over 120 countries, supporting local initiatives that strive to advance these principles.
Global Impact
Through OSF, Soros has contributed billions of dollars to support causes such as public health, education, human rights, and democratic reforms. His philanthropy has had a transformative impact, empowering marginalized communities, strengthening civil society, and fostering positive change in many parts of the world.
Education Initiatives
Soros recognizes the importance of education in empowering individuals and promoting social mobility. He has spearheaded several education initiatives to ensure access to quality education for all, particularly for marginalized and disadvantaged populations.
Scholarships and Programs
Soros has established scholarships, funds and programs to support talented individuals from underprivileged backgrounds. The most renowned program is the Open Society Foundations' flagship initiative, the Open Society Foundations Scholarship Programs, which provide financial assistance to students from around the world.
Advancing Access to Education:
Soros's philanthropy extends to improving educational infrastructure, supporting teacher training programs, doing research and advocating for education policy reforms. By investing in education, Soros aims to create a more equitable and inclusive society.
Human Rights and Democracy
Soros's commitment to human rights and democracy serves as a central pillar of his philanthropic work. Throughout his career, he has consistently provided support to organizations and initiatives that champion civil liberties, transparency, and accountable governance.
By funding projects that promote freedom of expression, press freedom, and internet freedom, Soros has been a staunch advocate for civil liberties. He recognizes the importance of an open society where individuals can freely voice their opinions and ideas without fear of reprisal.
Transparency and accountable governance are also crucial aspects of Soros's philanthropic agenda. He has actively supported initiatives that promote government transparency, combat corruption, and strengthen the rule of law. By doing so, Soros aims to ensure that governments are accountable to their citizens and that public resources are utilized for the collective benefit of society.
Soros's philanthropic efforts have been instrumental in empowering marginalized communities, protecting the rights of vulnerable populations, and promoting inclusive societies. His support for human rights and democracy reflects his belief in the fundamental values that underpin a just and equitable world.
Support for Civil Liberties
Soros's foundation has been a strong advocate for civil liberties, supporting organizations that protect and defend free speech, press freedom, and internet freedom. OSF has played a crucial role in protecting the rights of marginalized communities and vulnerable populations.
Promoting Democracy Worldwide
Soros has played a significant role in advancing democracy, with a particular focus on post-communist countries. Through his foundation, he has actively supported democratic movements, civil society organizations, and initiatives aimed at strengthening democratic institutions. Soros's aim is to empower citizens, promote civic engagement, and foster inclusive governance in these nations. His efforts have been instrumental in promoting democratic values and ensuring the participation of citizens in shaping their own political destinies.
Investment Strategies
Quantum Fund
Soros's investment prowess and capital, became evident with the establishment of the Quantum Fund. The fund, founded in 1973, achieved remarkable success and made Soros one of the wealthiest individuals in the world.
Formation and Successes:
Soros co-founded the Quantum Fund as a hedge fund specializing in global macroeconomic strategies. The fund's success was fueled by investors using Soros's ability to anticipate and profit from major market trends and economic shifts.
Approach to Investment
Soros's investment philosophy is influenced by his understanding of economic theory, political dynamics, risk, and market psychology. He is known for his contrarian and speculative investment strategies, often taking bold positions based on his analysis of market inefficiencies and mispricings.
Financial Speculation
Soros gained significant attention for his involvement in high-profile financial speculations, particularly currency trading and short selling.
Currency Speculation
Soros's most notable financial speculation occurred in 1992 when he bet against the British pound, famously known as "Black Wednesday." His shorting of the pound earned him substantial profits and made him a subject of international media attention and interest.
Short Selling and Market Influence
Soros has been involved in various short selling activities, where he bets against the value of stocks of a particular security or asset. His market influence has been the subject of scrutiny, with critics accusing him of manipulating markets for personal gain.
Economic and Political Analysis
Soros's success as an investor stems not only from his financial acumen and knowledge but also from his keen understanding of economic and political dynamics.
Influence on Global Markets
Soros's investment decisions, investments and public statements have been known to impact financial markets. His reputation as a shrewd investor and his ability to analyze and predict economic trends have given him significant influence over market sentiment.
Controversies and Criticisms
Soros's investment and business activities have often attracted criticism and controversy. Some accuse him of using his financial power to advance political agendas or destabilize economies. However, these claims are largely based on conspiracy theories and unsubstantiated allegations.
Political Activism
Support for Progressive Causes
Soros has been an active supporter of progressive political causes, advocating for social justice, democratic governance, and human rights.
Funding Political Campaigns
Soros has provided financial support to various political candidates and parties who align with his vision of an open society. His contributions have often targeted progressive candidates who prioritize issues such as equality, social inclusion, and environmental sustainability.
Advocating for Social Justice
Soros has used his influence and resources to advance social justice initiatives. He has supported movements and organizations working to address systemic inequalities, racial discrimination, and other social issues.
Funding Political Campaigns
Soros has provided financial support to various political candidates and parties who align with his vision of an open society. His contributions have often targeted progressive candidates who prioritize issues such as equality, social inclusion, and environmental sustainability.
Advocating for Social Justice
Soros has used his influence and resources to advance social justice initiatives. He has supported movements and organizations working to address systemic inequalities, racial discrimination, and other social issues.
Influence on Political Landscapes
Soros's political activities have had an impact on the political landscapes of several countries around dynamic world, particularly in Eastern Europe.
Promoting Democracy in Eastern Europe
Following the fall of communism in Eastern Europe, Soros played a vital role in supporting democratic transitions. His foundation provided financial assistance and resources to civil society organizations, independent media outlets, and pro-democracy movements.
Opposition and Conspiracy Theories
Soros's political activism has drawn fierce opposition, with some accusing him of orchestrating political events or influencing governments to suit his agenda. These claims have been widely discredited, yet they continue to circulate as part of various conspiracy theories.
Criticisms and Controversies
Accusations of Political Interference
Soros has faced numerous accusations of political interference, often fueled by conspiracy theories and ideological opposition.
Conspiracy Theories
Soros has been the subject of numerous unfounded conspiracy theories, ranging from controlling global finance to orchestrating political events. These theories often contain anti-Semitic undertones and are widely discredited by experts and mainstream media.
Manipulation of Governments
Critics have accused Soros of using his wealth and influence to manipulate governments or sway political outcomes. However, there is limited evidence to support these claims, and they are primarily based on conjecture and ideological opposition.
Attacks on Personal Character
Soros has been subjected to personal attacks and character assassinations throughout his career.
Anti-Semitic Accusations
Some of the attacks against Soros have taken the form of anti-Semitic tropes and stereotypes. These accusations, rooted in prejudice and misinformation, seek to discredit Soros based on his Jewish heritage.
Misrepresentation in Media
Soros's philanthropy, investment activities, and political engagements have often been distorted or misrepresented in media narratives. This misrepresentation contributes to the perpetuation of false narratives and further polarizes public opinion.
Final Thoughts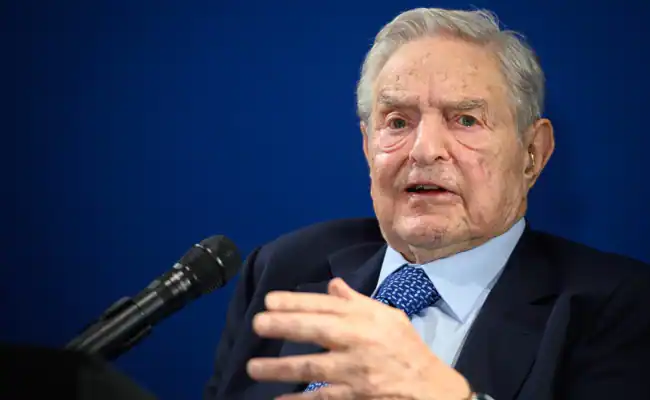 George Soros's life and accomplishments encompass philanthropy, successful investing, and political activism. Through the Open Society Foundations, he has dedicated significant resources to promote human rights, democracy, and social justice globally. His investment strategies, particularly through the Quantum Fund, have yielded substantial success. However, Soros has also faced unwarranted criticism and controversy, fueled by conspiracy theories and ideological opposition. Regardless of these challenges, there is no denying the profound impact Soros has had on shaping societies, economies growth, and political landscapes worldwide.
FREQUENTLY ASKED QUESTIONS ABOUT GEORGE SORO
How did George Soros make his money?
Soros began his career in British and American merchant banks before launching his first hedge fund, Double Eagle, in 1969. The profits from Double Eagle provided the seed money for his second hedge fund, Soros Fund Management, in 1970.
How old is George Soros?
92 years
What is George Soros net worth?
6.7 billion USD
Does George Soros own Costco?
In Q1 2013, the investor divested all their equity holdings in Costco Wholesale and no longer possesses any shares in the company.