Meet Dr. Charles Livingston, the inno- vative CEO of Lifeboost Coffee, who took an unconventional path from a chiropractor to a coffee entrepreneur. Livingston's journey from the health and wellness field to the bustling coffee industry is as unique as it gets.
His passion for health, combined with an in-depth understanding of the beneficial qualities of coffee and a drive to make a tangible impact on the world, led to the creation of Lifeboost Coffee. A company born out of a need for cleaner, healthier, and more delicious coffee, Lifeboost stands as a testament to Livingston's lifelong commitment to wellness and kindness.
Backed by faith and an insatiable desire to keep improving, Dr. Livingston continues to redefine success, not just by building a thriving business, but by positively affecting the communities they source from and making a mark in environmental conservation.
Read on to discover more about Dr. Livingston's unique journey, his inspirations, and the transformative impact of Lifeboost Coffee on its customers and the global coffee industry.
Check out more interviews with entrepreneurs here. 
WOULD YOU LIKE TO GET FEATURED?
All interviews are 100% FREE OF CHARGE
Your journey to being a CEO of a coffee company isn't necessarily a "traditional" path – Tell us a little bit about your background and how that evolved into making coffee.
Charles Livingston: You know, my journey to becoming a CEO of a coffee company is as unconventional as they come. I started my career as a chiropractor, got my Doctorate from Palmer College of Chiropractic, and spent countless hours researching nutrition and wellness.
I started be coming passionate about coffee in my mid-thirties when I studied all the health benefits associated with it. Through my studies in nutrition, I came to realize that even with things that are considered to be healthy, there is a "dark side."
Coffee has a TON of health benefits, but since it is the 3rd most drunk beverage on the planet, it's considered a cash crop and is highly sprayed with pesticides. And even if it's certified organic, you still have to think about mycotoxins, or more commonly, "molds."
Any of these types of toxins can bioaccumulate in your body over time. And if I personally am drinking 4-5 cups a day, for years on end, I want to eliminate as many toxins as possible.
Since I wanted this for myself, I started researching to see if there were others like me. It was then that I saw a gap in the market for truly healthy, clean, and delicious coffee, and the idea of Lifeboost Coffee was born.
"Through my studies in nutrition, I came to realize that even with things that are considered to be healthy, there is a "dark side."
Is this why starting Lifeboost was so important to you?
Charles Livingston: Yes, I've always been passionate about health and wellness. Starting Lifeboost was an ex- tension of that passion. As mentioned, I wanted to take a beverage that half of the population drinks daily and make it as healthy, clean, and tasty as possible.
Unfortunately, we live in a toxic world. Toxins are in the foods we eat, the air we breathe, the water we drink, and the list goes on and on. It can feel overwhelming to try to make health a priority when it seems everything around you has toxins or other unhealthy elements.
But, if we take small steps to eliminate those toxins, especially in something that we already drink multiple cups of a day, it can improve our health and be a simple but impactful way to change our overall wellness in positive ways.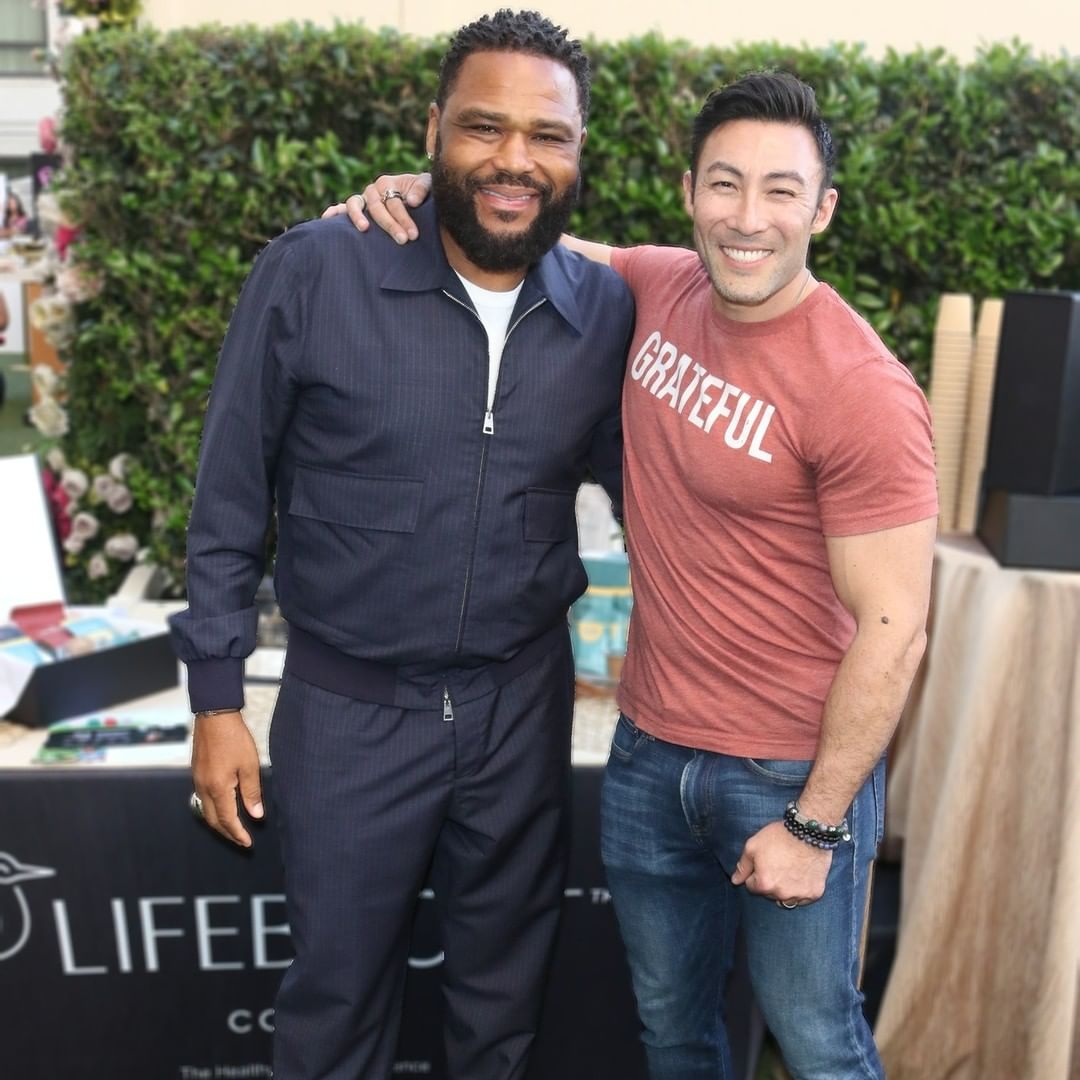 Throughout this journey with Lifeboost Coffee, what have been your personal influences, from people to books or anything else, that you would say have been essential in building your success?
Charles Livingston: I've been inspired by numerous people and books over the years. But, if I had to pick one, it would be my faith. It's my compass and has guided me in building Lifeboost Coffee. This informs everything I do in both business and my personal life and is a foundation for how I approach our company's core pillars as well.
I was raised in a small country town in Indiana, where my grandparents taught me to live by the "Golden Rule," which is to treat others how you want to be treated.
Growing up with these types of ideas instilled in me is how kindness became a core value of mine and is a core pillar of Lifeboost Coffee; being kind and treating others with respect is something we strive to embody every day with our customers as well as with each other as employees and teams within the company.
Another core pillar for Lifeboost is the idea of community, or connection, which was greatly influenced by my having grown up and lived in a small town, where the people and community were always very important to me.
All of these foundations and influences, my community, family, and faith, have taught me to lead by example, which is something I strive to do every day in my business.
Are these personal foundations what make your company stand out in such a competitive market?
Charles Livingston: More than anything, what sets Lifeboost apart is our commitment to producing the healthiest, lowest acid coffee on the planet that actually tastes amazing.
Our coffee is free of toxins, low in acid, and shade-grown at high altitudes in Nicaragua. Plus, it's bird-friendly and single-origin. Our vision for healthy coffee has created a way for us to not only have a positive impact on our customers' overall well-being, but also on the coffee communities where our products are grown.
We stand out in a crowded market by staying true to our mission and prioritizing quality above all else. I would also say it's our community as well that helps us stand out.
When you say "healthy coffee," what are a few of the key benefits to making healthy coffee a staple in an everyday household or our daily habits? In other words, what are some health benefits a customer might notice with your coffee versus traditional brands?
Charles Livingston:
First, it's important to understand what exactly "healthy" coffee is. As we have hinted at here, healthy coffee is created by eliminating variables that science has shown to have potentially negative effects on your health. Things like: Mycotoxins, molds, heavy metals, acrylamide, chemicals, pesticides, glyphosate, etc., which Lifeboost Coffee tests for to ensure we don't have these contaminating our products. With that in mind, our customers often report experiencing fewer digestive problems, less acid reflux, and overall feeling better when drinking Lifeboost Coffee compared to traditional brands. It is pretty amazing what simply consuming clean, healthy coffee can do for the body when you think about it.
"I was raised in a small country town in Indiana, where my grandparents taught me to live by the "Golden Rule," which is to treat others how you want to be treated."
Lifeboost isn't just a successful coffee company; your process of growing and roasting coffee differs from most. When you set out, did you aim to revolutionize coffee, or has the level of success of this been a surprise at all?
Charles Livingston: When I set out, my goal was simple: to create the healthiest coffee possible. The success and impact we've had on the industry have been incredible and, honestly, a bit surprising. But it's a testament to the fact that people are looking for healthier, cleaner options in every aspect of their lives, including their coffee.
I've always been a fan of Kai Zen, a Japanese term that is commonly translated as "continuous improvement." It is a philosophy and practice that focuses on incremental, on going positive changes to improve efficiency and quality.
Health is an ever-changing field. And as I learn more, I want to make sure Lifeboost is on the cutting edge of health. I want to be able to pass this on to our customers. If you know better, you do better.
Lifeboost Coffee is also known for cultivating the idea of being "more than just coffee," which also goes with this idea of Kai Zen and "continuous improvement," or ongoing positive changes.
Charles Livingston: It does. Lifeboost is about more than just coffee. It's about promoting a healthy lifestyle, making a positive impact on the environment, and supporting our farming communities. We've created this by staying true to our values and partnering with organizations like Project Alianza, which builds schools in areas where our coffee farms are located. We're now on our 26th school, by the way! Another one of our partners is the organization Rainforest Trust, where we have saved thousands of acres of rainforest so far. Our partnerships with Project Alianza and Rainforest Trust reflect our commitment to environmental sustainability and social responsibility. We believe that being a successful business also means making a positive impact on the world. Every country where we get coffee from, we want to be able to help them in some way. Partnering with good charities like these helps us to make an impact greater than ourselves. So, Lifeboost isn't "just" coffee, but it is coffee that connects everything we do.
With this big mission for positive impact at the center of everything you do, what does success in the coming year look like for you and Lifeboost Coffee?

Charles Livingston: If I had to attribute our success so far to one thing, it's clarity in our mission to produce the healthiest, cleanest, and tastiest coffee possible while helping our farmers and protecting the environment.
It's what our customers value and appreciate about us. I have a mentor who has drilled in my head the importance of clarity in everything you do in life. If you don't know what you want, how will you ever achieve it?
For the next year, success, for myself and for Lifeboost Coffee, continues by carrying on this mission. This means continuing to grow, reaching more people with our coffee, and furthering our positive impact on the environment and our farming communities.
We're always looking for ways to improve and innovate, and we're excited about what the future holds. Nothing fuels me more than the daily testimonials we get about our coffee. It drives me to keep making Lifeboost Coffee, the healthiest, tastiest, low-acid coffee on the planet.
Jed Morley, VIP Contributor to ValiantCEO and the host of this interview would like to thank Dr. Charles Livingston for taking the time to do this interview and share his knowledge and experience with our readers.
If you would like to get in touch with Dr. Charles Livingston or his company, you can do it through his – Linkedin Page
Disclaimer: The ValiantCEO Community welcomes voices from many spheres on our open platform. We publish pieces as written by outside contributors with a wide range of opinions, which don't necessarily reflect our own. Community stories are not commissioned by our editorial team and must meet our guidelines prior to being published.
Read Special Edition Articles