[ad_1]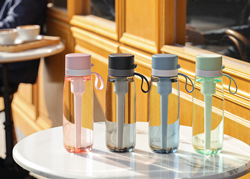 "The GoZero Everyday Bottle is the ultimate in filtration and provides cleaner, fresher water on the go," said Alex Rishoj, CEO of Aquashield.

SUNNYVALE, Calif. (PRWEB)
April 26, 2021
AquaShield, a global brand partner of health technology company Philips, is launching its newest innovative water bottle – Philips GoZero™ Everyday Insulated and Tritan Plastic filtration water bottles under its GoZero brand. It's the third entry to their existing line of water bottles launched this past October in North America.
Continuing on Philips GoZero™ mission of helping consumers sustainably enjoy cleaner, refreshing drinking water on the go from both tap and fresh sources*, the Philips GoZero™ Everyday Filtering water Bottle makes it easier than ever to drink cleaner tap water in every sip. It is designed with a unique activated carbon fiber filter that instantly transforms tap water into cleaner drinking water by effectively reducing the chlorine and particles that may be present in tap water.
Features of the product include


Fresh-tasting water anywhere: Designed with an activated carbon fiber filter, the Everyday Bottle instantly reduces the amount of chlorine and particles that may present in tap water. One GoZero Everyday filter can filter up to 150L/40 gallons of water. Filter lasts approximately two months.

Save on Waste: One Philips GoZero Everyday Filter helps save the environment by replacing 450 single-use plastic bottles**

Health-First: Designed with health in mind, the GoZero Everyday bottles are made of food-grade Tritan plastic that is free of harmful chemicals such as BPA.

Designed keeping convenience in mind: With a built-in carry loop, a cup-holder friendly size, leak-proof, and dishwasher-safe (not the filter) design, the lightweight Everyday Bottle is perfectly convenient. It also comes with a 1-year warranty.
"The GoZero Everyday Bottle is the ultimate in filtration and provides cleaner, fresher water on the go," said Alex Rishoj, CEO of Aquashield. "It is the latest addition to Phillips rapidly-growing lineup of hydration bottles, a family of products designed to meet the needs of all consumers looking to drink fresher and cleaner water anywhere, anytime with ease."
Both Philips GoZero™ Everyday Insulated Bottle and Philips GoZero™ Everyday Tritan Bottle are available on Amazon as of April 22nd, 2021 and will come in four designer colors – Pink, Green, Grey and Blue. The Insulated Bottle will retail for $29.99, while the Tritan Bottle will sell for $22.99.
Tritan Bottle : https://www.amazon.com/gp/product/B08YKLYJ7N

Insulated Bottle: https://www.amazon.com/Philips-Insulated-Stainless-Water-Cleaner-Tasting/dp/B08YKNGLMP
*Does not include seawater

** Compare to 11 ounces of bottled water.
For more information visit: http://www.philips.com/water
About AquaShield

AquaShield Health Technology Company, a former Philips company, is the global exclusive brand licensee for Philips Water Solutions. AquaShield is focused on providing a complete water solution to consumers with their water filtration, heating and smart-washing product portfolio. AquaShield believes there is always a way to make life better and is committed to improve the health and well-being of people's lives through meaningful innovation and responsible sustainability. AquaShield is active globally, with sales in more than 30 countries.
Share article on social media or email:
[ad_2]

Source link