Hasbulla Magomedov, aka "mini khabib," is a social media sensation who has gained fame over the past years and has become one of the famous memes in the MMA community art. Hasbulla became a famous social media star thanks to his high-pitched voice, fighting talk, appearance, confidence, and hilarious videos that went viral on TikTok.
If you're a regular Instagram or TikTok user, you might have come through his videos already. Well, if you haven't, read on to find out more about this Tiktok star's age, height, net worth, why he's so famous and more.
Key Facts About Hasbulla Magomedov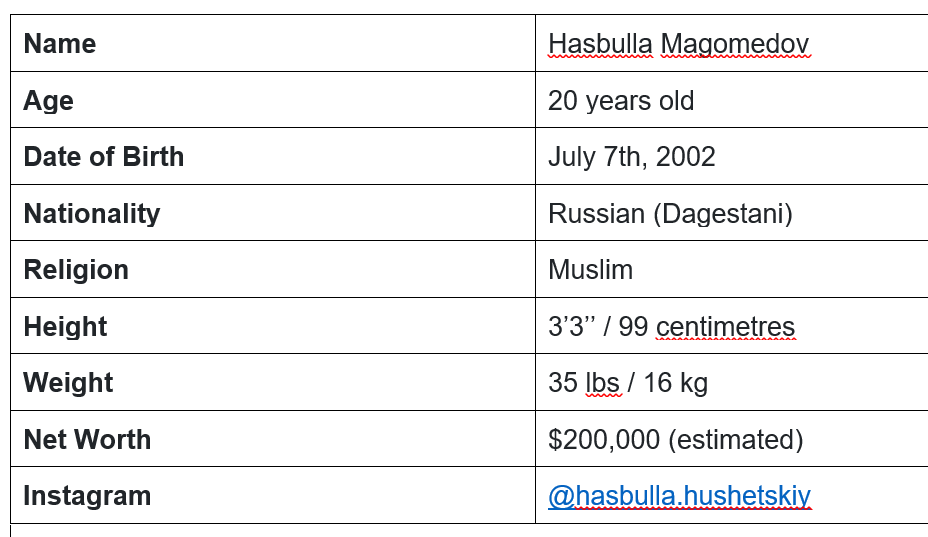 Who is Hasbulla Magomedov?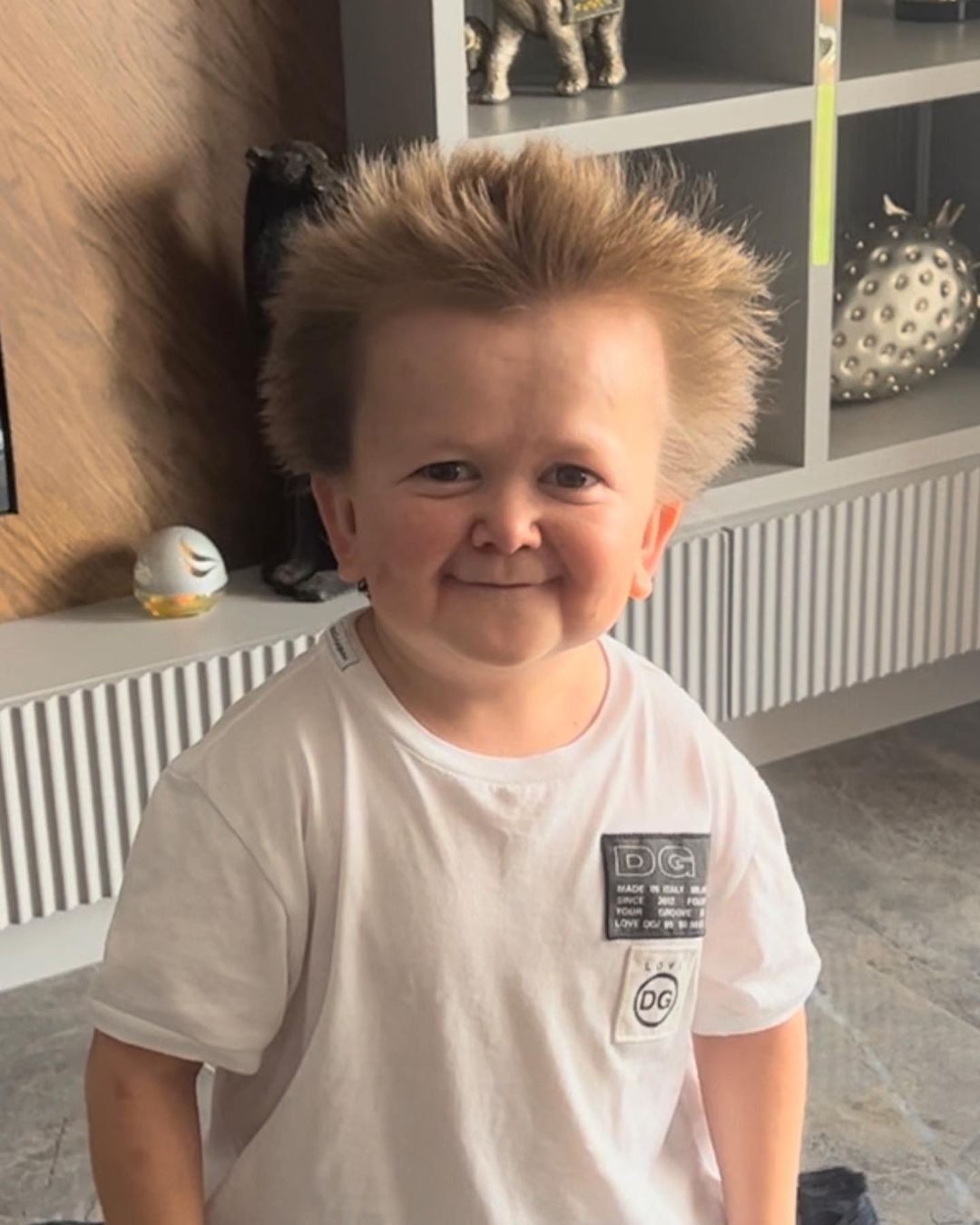 Hasbulla Magomedov is a TikTok star from the Russian Republic of Dagestan, located in the south-eastern of Russia bordering Georgia and Azerbaijan. Where is Hasbulla from? Hasbulla was born in Makhachkala, Dagestan.
At the peak of the Covid-19 pandemic, he came into the limelight by posting content that made people laugh on his Instagram and TikTok platforms.
He began posting content in late 2020, and his video of coming to blows with the Tajikistan singer Abdu Rozik in 2021 went viral. Unfortunately, the Russian Dwarf Athletic Association termed it unethical and was never sanctioned.
Since then, his charisma has gained him over 8 million Instagram followers. Interestingly, Dagestan is also where Khabib Nurmagomedov-the retired UFC fighter and lightweight champion, comes from.
What is Hasbulla's relationship with Khabib Nurmagomedov? Hasbulla and Khabib come from the same place, Dagestan, and they're also close friends. Hasbulla will also attend UFC events, MMA fights, and press conferences. Hasbulla was even nicknamed "mini Khabib" since he acted out Khabib's UFC 229 weigh-in.
How old is Hasbulla Magomed?
As of 2023, Hasbulla Magomedov's age is 20 years old. It's due to a genetic disorder that Hasbulla looks much younger, but he's an adult.
How tall is Hasbulla?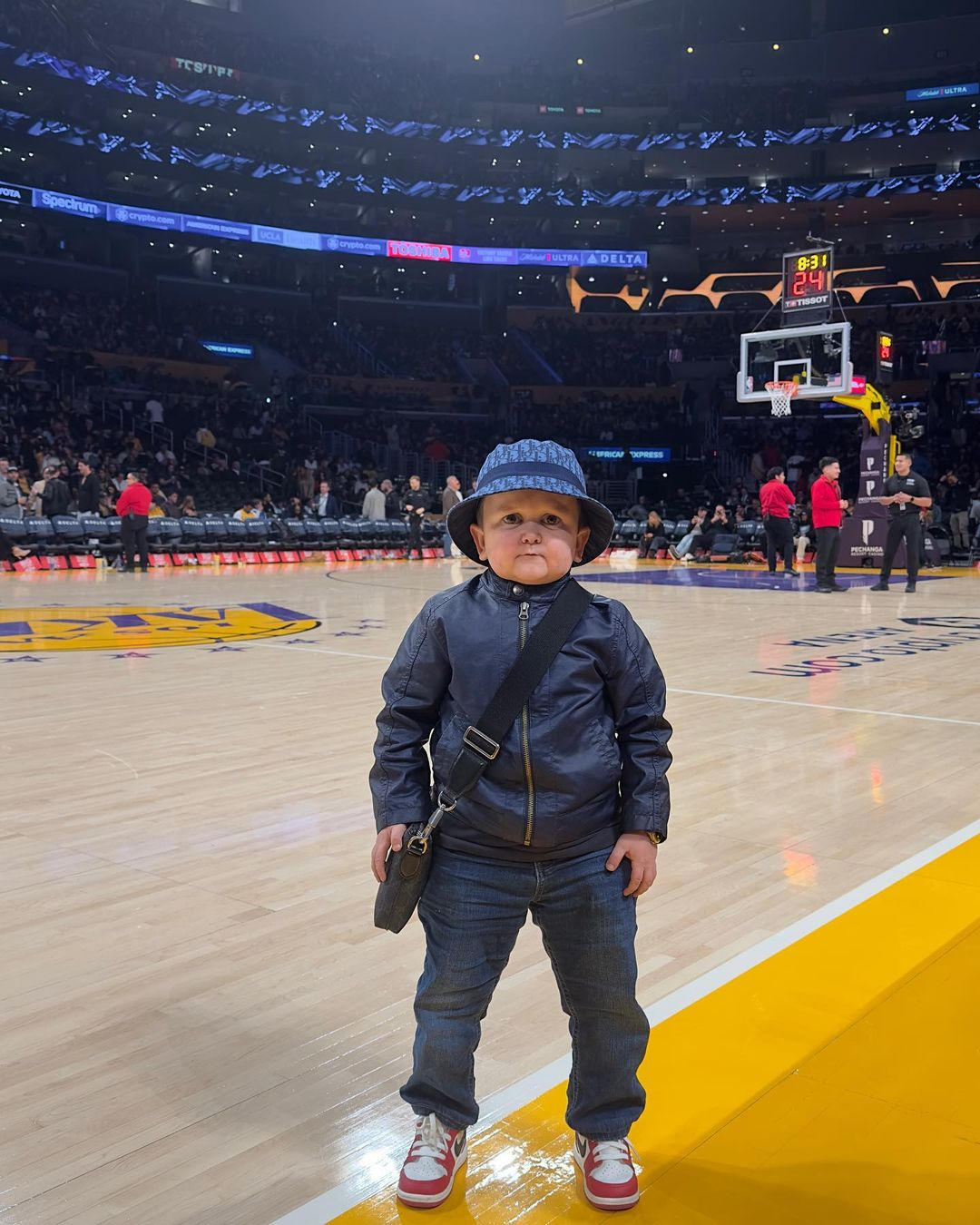 Hasbulla Magomedov's average height is 3 feet 3 inches, which is approximately a meter tall because he has dwarfism.
Why was Hasbulla nicknamed "mini khabib"?
As earlier mentioned, Hasbulla Magomedov was nicknamed "mini khabib' after re-enacting Khabib's UFC 229 weigh-in in a video that went viral on social media. The Instagram star is now friends with Khabib, and many people often confuse them as being blood-related, which is not true. Hasbulla, who is also friends with Nurmagomedov are often seen together even when meeting popular celebrities like Mike Tyson.
Why was Hasbulla arrested?
The social media sensation and UFC ambassador, Hasbulla Magomedov, was arrested in his native republic Dagestan. He was arrested alongside his friends for violating traffic laws while celebrating a friend's wedding. Mini Khabib and his friends reportedly blocked the main road to eat donuts. The local reports said Hasbulla and his group were taken into custody because of administrative violations.
The social media sensation has since apologized and promised it wouldn't happen again. He even confirmed he was not the one driving.
"That won't happen again, people we apologize. We had to answer for it a little bit. I wasn't driving either." Hasbulla tweeted.
Dagestan's Internal Affairs Ministry released a statement after this. It stated that smashing cars, burning rubber, and blocking roads for other drivers are common, especially when celebrating weddings.
Dagestan's Internal Affairs Ministry released a statement stating that burning rubber and blocking roads is a common occurrence in the country when celebrating a wedding.
"Unbridled wedding fun in Dagestan is known to many and far beyond the borders of the republic. In the absence of other ways of entertainment, such a primitive option is still extremely popular – blocking roads for other road users, burning rubber, smashing cars against each other and many other features that, in fact, have nothing to do with the celebration."
Hasbulla and his friends blamed the wedding emotions. This is what the statement from Internal Affairs stated;
"All participants of 'wedding emotions', as they themselves call it, were taken to the police, and in relation to them, employees of the State Traffic Inspectorate of the Ministry of Internal Affairs of Dagestan drew up administrative protocols for all violations."
Hasbulla received online backlash after he shared a video "by accident" abusing his cat
The social media star had a shared by accident online showing him pulling the cat's ear and punching its head severally. In the YouTube video briefly shared, the MMA fighter is seen strongly pilling the feline pet's ear and then hitting on its head. This has really angered his fans.
After that, the cat again retreats to its bed, and Hasbulla is seen punching it. However, his face was not shown in the video, but it could be assumed he was the one after another parallel video released showed Hasbulla wearing the same wristwatch and shirt and also the recording happening in his house.
Well, there are so many videos showing Hasbulla's passion for cars, cats, and guns. So, even after marketing his passion for pets, specifically cats, his funs don't understand why he could do that.
What is Hasbulla's condition?
Hasbulla's medical condition is Growth Hormone Deficiency, GHD, known as dwarfism. This explains why many assume Hasbulla is much younger, yet his birth certificate suggests otherwise.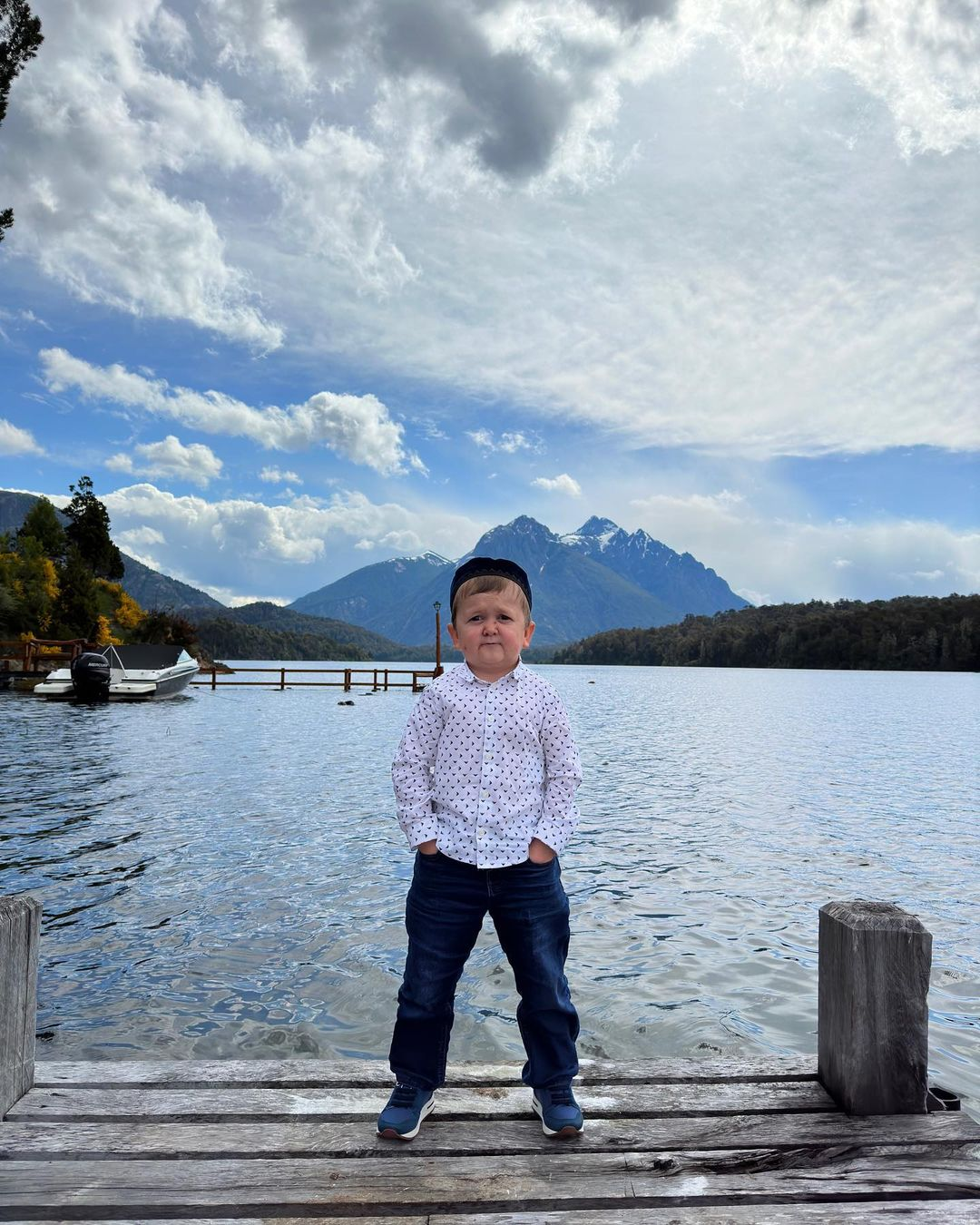 What disease does Hasbulla have? Hasbulla suffers from GDH, a form of dwarfism. GHD occurs when the brain's pituitary gland, responsible for producing the hormone, fails to produce Growth Hormone. Hasbulla shares the same genetic condition as one of his rivals Abdu Rozik.
Growth Hormone Deficiency has also affected other famous stars, including PSG's footballer, Lionel Messi. Messi was diagnosed with GHD at 11 years old but received a human growth hormone, HGH injection.
What is Hasbulla famous for?
Hasbulla is famous because of making viral martial art video that amassed millions of views on Instagram and Tiktok. Hasbulla seems to have chosen career in fighting. In 2022, Hasbulla signed a deal with UFC, Ultimate Fighting Championship. The deal is believed to be a five year promotion contract. But that's not all, here are other things that make Hasbulla Magomedov famous.
Rivalry with Abdu Rozik
Hasbulla attracted social media attention after calling out for a fight with the popular Tajikistan-born singer Abdu Rozik. Abdu Rozik also has dwarfism and is 3'2″ tall. The two have been rivals for years as they both want to be seen as the toughest. However, the sports association deemed it unethical. Well, as their rivalry continues, Hasbulla, who's 3'3″ tall is still gaining popularity.
Rivalry with Conor McGregor
The TikTok star Hasbulla is also a rival of Conor McGregor- the Irish professional mixed martial arts fighter. Their beef began in 2022 after Hasbulla challenged Conor McGregor in a fight saying, "I want to punish this one. He talks too much."
This is what Hasbulla had to say during an interview, "Conor McGregor is not my opponent, he can just talk. He's not like a fighter for me, I don't respect him as a fighter. And if I meet him I will cause some problems for him."
In a now-deleted tweet, McGregor responded to Hasbulla, saying, "I'd love to boot that little g*** Hasbulla over a goal post." McGregor's response has received backlash from Hasbulla, thus igniting their rivalry.
That one Twitter beef attracted Australia MMA fight champion Alexander Volkanovski who stepped in to defend Hasbulla. He told off Conor McGregor, "you'll have to go through me first — leave my mate alone."
Well, this is so interesting, but even though Hasbulla may not fight Conor, he may defeat him in trash-talk game.
What is Hasbulla's net worth?
Hasbulla's net worth is estimated to be worth $200,000 USD by reports. This is thanks to his social media stardom and monetizing his social media platforms.
Though he has signed a five year contract with UFC, he has not revealed how much he will earn from the contract. But it will definitely be millions by the time the contract ends.
We can also expect his net worth to increase if his fight with his rival Abdu Rozik goes through someday. It will be even more interesting if he manages to get a fight with Conor McGregor.
It's even reported that UFC president Dana White is willing to pay $1.5 million for Hasbulla and Abdu Rozik's fight.
Well, it's difficult to accept that the Irish UFC star would take Hasbulla's comment lightly, yet the UCF president Dana White actually knows the reception the fight would have.
Aside from his stardom, Hasbulla Magomedov is also enjoying a luxurious life. From the photos he shares on Instagram, he has a good collection of expensive cars.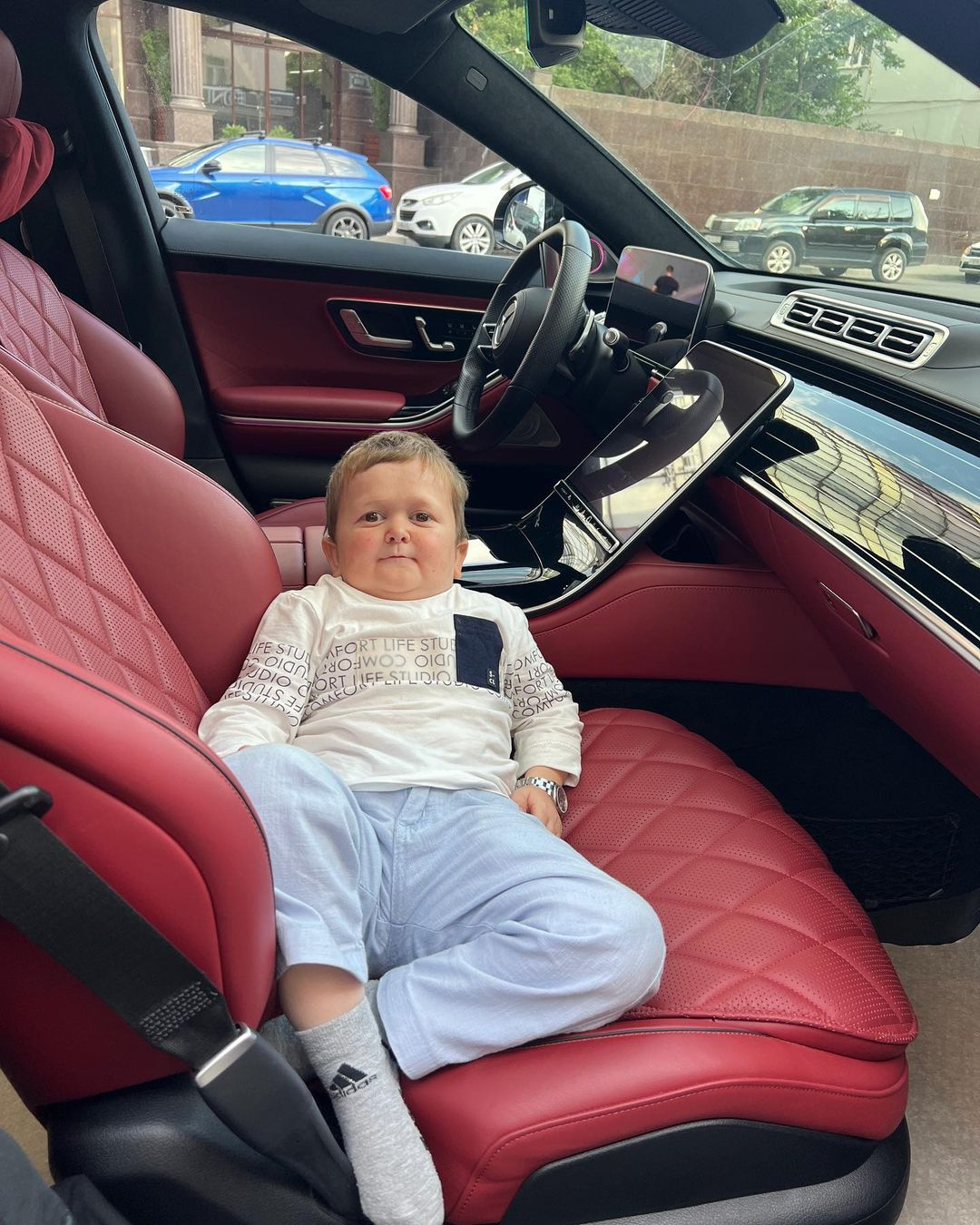 From our findings, it seems he has an interest in BMWs. Hasbulla was trying to sell a BMW E38 7 Series earlier this January. He was asking for $12,200 for the vehicle.
Hasbulla NFTs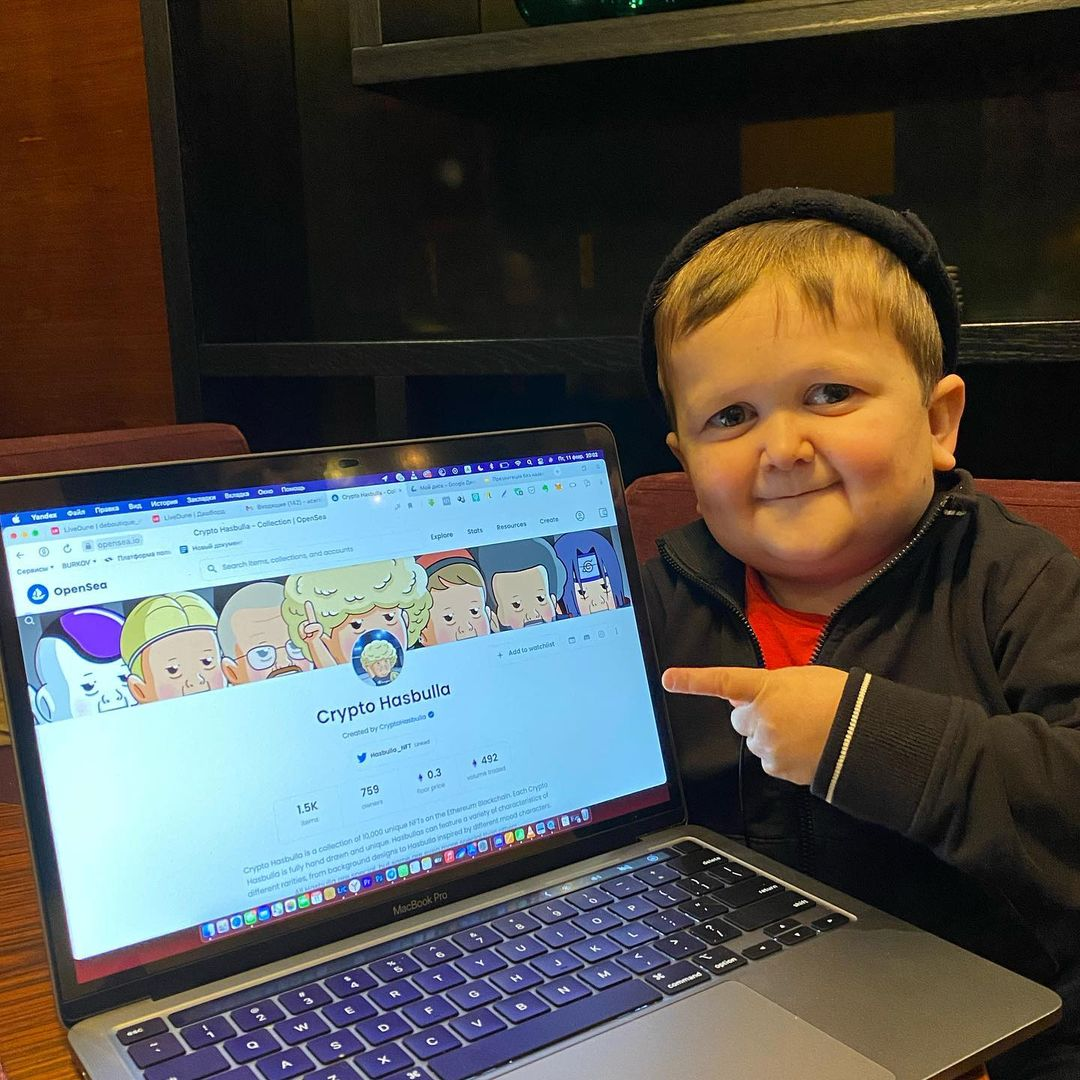 Hasbulla first released his NFTs on 14th April 2022, depicting him as a different pop culture character. His NFT collection has a floor price of around 0.13 ETH or $1295 per Crypto Hasbulla.
Does Hasbulla have a UFC deal?
Internet celebrity, Hasbulla made a major announcement in October 2022 through his Twitter account that he had signed a deal with the UFC. But his first opponent and the exact date are yet to be revealed. But, we can guess his first opponent is most likely his rival, Abdu Rozik, but this is just speculation.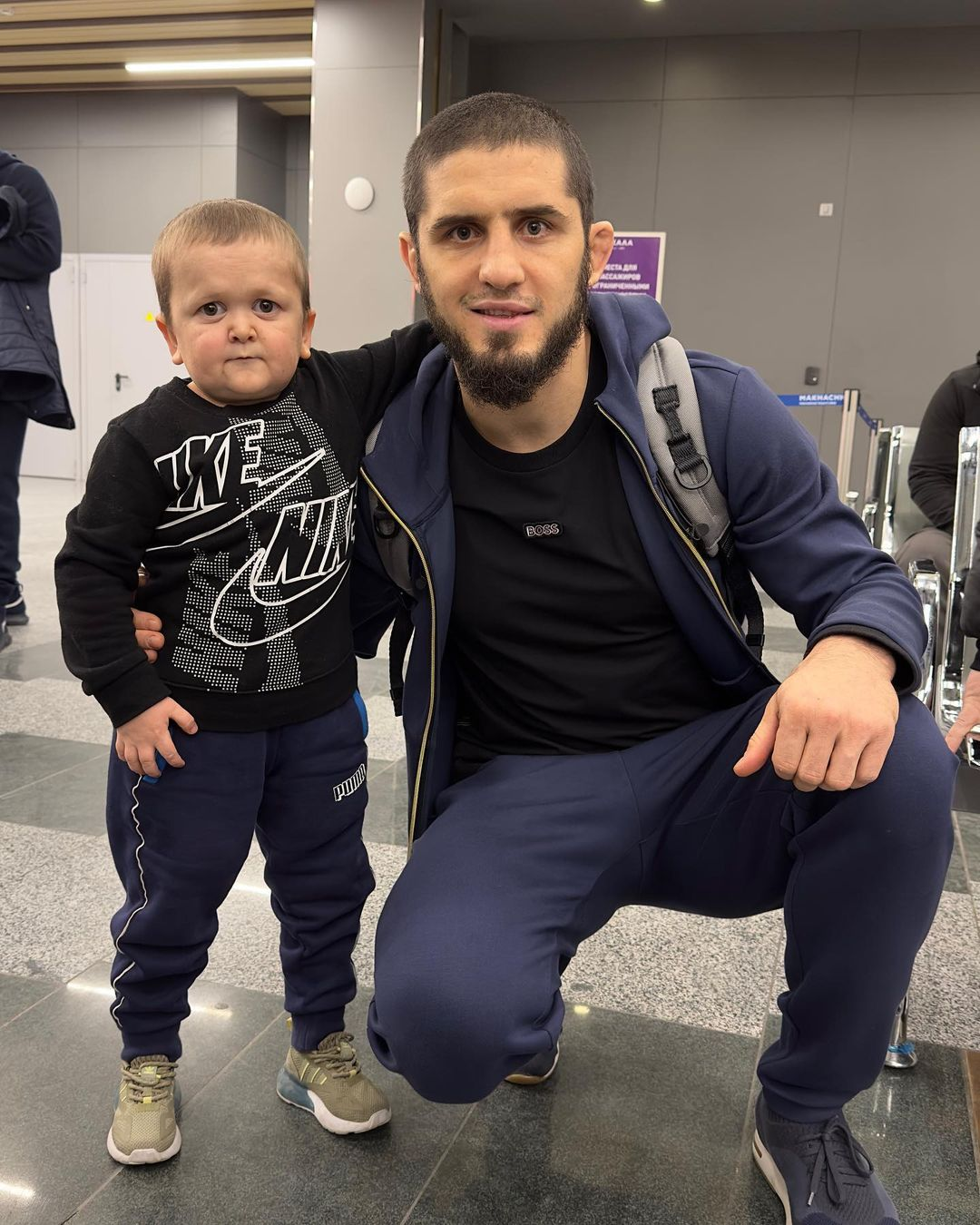 In October 2022, the social media star attended UFC 280, which had a main card fight between Charles Oliviera and Islam Makhachev. Hasbulla had a friendly fight with Makhachev in the Octagon before the fight got underway.
Facts about Hasbulla Magomedov
His video mocking MMA went viral on Tiktok

He's the neighbor to the UFC lightweight champion, Islam Makhachev

He signed a five year contract with UFC in September 2022. He will not fight in UFC but promote UFC events

Fans nicknamed him Mini khabib based on Khabib Nurmagomedov, the legendary Russian MMA fighter

Hasbulla suffers from a genetic disorder that's a form of dwarfism

He has a political ambition to be the Minister of Internal Affairs in the Republic of Dagestan

He has and prefers pet cats to dogs
Frequently Asked Questions about Hasbulla Magomedov
1. Why is Hasbulla famous?
Hasbulla became famous after a video of his rivalry with Abdu Rozik-Tajikistan-born singer, went viral. In the video, Hasbulla was seen almost fighting with Rozik. The viral video amassed a million views within a short time from late 2020.
2. What is the deal with Hasbulla?
The deal with Hasbulla is a five year contract signed with UFC in September 2022. His sole purpose will be to promote UFC events.
3. Why is Hasbulla so rich?
Hasbulla is so rich thanks to his monetized social media content that went viral, gaining him a huge following of over 6 million Instagram followers.
4. Is Hasbulla actually a baby?
No. Hasbulla Magomedov is an adult but suffers from a rare genetic condition. As of 2023, the Russian social media sensation star is 20 years old.
5. What is Hasbulla Magomedov's net worth?
Hasbulla Magomedov's net worth is estimated to be $200,000 with an average of over $80,000 according to reports.
Hasbulla's Quotes
Here are quotes from Hasbulla Magomedov's responses during interviews.
"I can't say that I'm handicapped. I can speak, I understand everything just like you. I have arms and legs, I have everything just like the others. I can enjoy my life."
"I just like to do my thing; on a normal day, I like to walk in the streets with my friends and socialise with people. I like driving my cars, having fun and always working hard."
"People are always complaining about things in life, but I try to enjoy every day and do the things I love. You really have to stay positive."
"I want to become Minister of Internal Affairs for Dagestan. First I'll find my haters and make them panic. I'll slow down the speed limit within the city, but increase it on the highway. All the speed cameras are coming down."
"I could not care less about Ronaldo. I am more famous than him. The only thing he does in a match is pass around the ball."
"I don't watch cartoons, I'm an adult."
"When people try to insult me, I'm quick to clap back and then it's beef."
"I want to punish Conor McGregor. He talks too much."