Re-energize your day or week with these motivating quotes from some of the world's biggest thinkers.
If you find yourself in a little mid-week or mid-day depression, take a few moments to re-energize on your own with these motivating quotes from a few of the globe's greatest thinkers. In some cases, all it takes is a little reminder to boost your spirits and also refocus your day.
1- "Happiness is an attitude. We either make ourselves miserable, or happy and strong. The amount of work is the same."

— Carlos Castaneda
2- "When one door of happiness closes, another opens, but often we look so long at the closed door that we do not see the one that has been opened for us."

— Helen Keller
3- "You have brains in your head. You have feet in your shoes. You can steer yourself, any direction you choose."

— Dr. Seuss
4- "Your work is going to fill a large part of your life, and the only way to be truly satisfied is to do what you believe is great work. And the only way to do great work is to love what you do."

— Steve Jobs
5- "Instead of wondering when your next vacation is, you ought to set up a life you don't need to escape from."

— Seth Godin
6- "The problem with the rat race is that even if you win, you're still a rat."

— Lily Tomlin
7- "I've missed more than 9,000 shots in my career. I've lost almost 300 games. 26 times, I've been trusted to take the game winning shot and missed. I've failed over and over and over again in my life. And that is why I succeed."

— Michael Jordan
8- "Don't say you don't have enough time. You have exactly the same number of hours per day that were given to Helen Keller, Pasteur, Michelangelo, Mother Teresa, Leonardo da Vinci, Thomas Jefferson, and Albert Einstein."

— H. Jackson Brown Jr.
9- "Someone once told me that 'time' is a predator that stalks us all our lives. But I rather believe that time is a companion who goes with us on the journey and reminds us to cherish every moment because it will never come again."

— Jean-Luc Picard
10- "It is not the strongest of the species that survive, nor the most intelligent, but the one most responsive to change."

— Charles Darwin
11- "Opportunity is missed by most people because it is dressed in overalls and looks like work."

— Thomas Edison
11- "You miss 100 percent of the shots you don't take."

— Wayne Gretzky
12- "Do or do not. There is no try."

— Yoda
13- "Those who say it can not be done, should not interrupt those doing it."

— Chinese Proverb
14- "Whatever the mind of man can conceive and believe, it can achieve. Thoughts are things! And powerful things at that, when mixed with definiteness of purpose, and burning desire, can be translated into riches."

— Napoleon Hill

15- "You are not your resume, you are your work."

— Seth Godin

16- "Far and away the best prize that life offers is the chance to work hard at work worth doing."

— Theodore Roosevelt

17- "Even if you are on the right track, you'll get run over if you just sit there."

— Will Rogers

18- "Yesterday's home runs don't win today's games."

— Babe Ruth

19- "If you work just for money, you'll never make it, but if you love what you're doing and you always put the customer first, success will be yours."

— Ray Kroc

20- "When writing the story of your life, don't let anyone else hold the pen."

— Harley Davidson
21- "A professional is someone who can do his best work when he doesn't feel like it."

— Alistair Cook
22- "Happiness is not something you postpone for the future; it is something you design for the present."

— Jim Rohn

23- "Nothing can stop the man with the right mental attitude from achieving his goal; nothing on earth can help the man with the wrong mental attitude."

— Thomas Jefferson

24- "People inspire you or they drain you — pick them wisely."

— Hans F. Hansen

25- "A man should never neglect his family for business."

— Walt Disney
26- "The Pessimist complains about the wind. The optimist expects it to change. The leader adjusts the sails."

— John Maxwell

27- "Whether you think you can or whether you think you can't, you're right!"

— Henry Ford

28- "When you change your thoughts, you change your world."

— Norman Vincent Peale

29- "A man is but the product of his thoughts. What he thinks, he becomes."

— Mahatma Gandhi

30- "There are two primary choices in life: to accept conditions as they exist, or accept the responsibility for changing them."

— Denis Waitley
31- "Whoever is happy will make others happy too."

— Anne Frank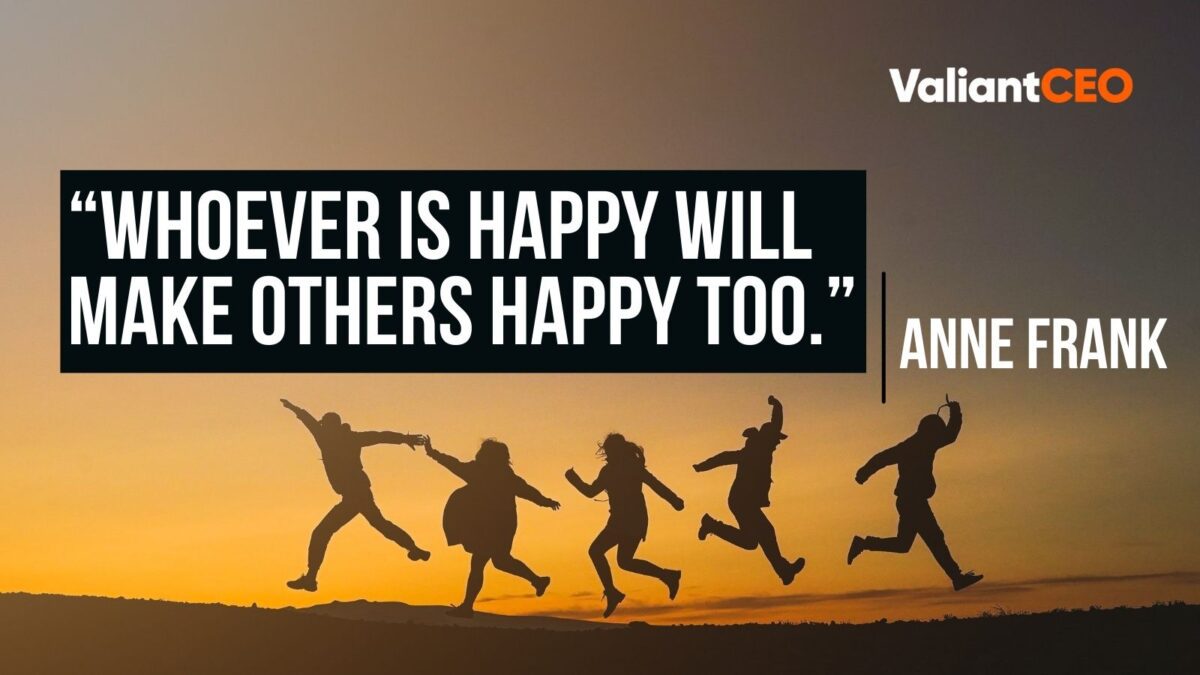 32- "Tough times never last, but tough people do."

— Robert H Schuller
33- "Make your life matter and have fun doing it."

— Aaron Hurst
34- "Surround yourself with positive people."

— Rod Rohrich
35- It's almost always possible to be honest and positive."

— Naval Ravikant
36- "The truly rich are those who enjoy what they have."

— Yiddish Proverb
37- "The power of imagination makes us infinite."

— John Muir
38- "Do good and good will come to you."

— Adam Lowy
39- "Take the first step."

— Darius Fisher
40- ""Be happy for this moment. This moment is your life."

— Omar Khyyam
41- "A good laugh is sunshine in the house."

— William Makepeace Thackeray
42- "In a gentle way, you can shake the world."

— Mahatma Gandhi
43- "Be yourself and people will like you."

— Jeff Kinney
44- "Each day provides its own gifts."

— Marcus Aurelius
45- "You do not find the happy life. You make it."

— Thomas S. Monson
46- "Those who don't believe in magic will never find it."

— Roald Dahl
47- "To win big, you sometimes have to take big risks."

— Bill Gates
48- "Try to be a rainbow in someone's cloud."

— Maya Angelou
49- "Hard times don't create heroes. It is during the hard times when the 'hero' within us is revealed."

— Bob Riley

50- "Memories of our lives, of our works and our deeds will continue in others."

— Rosa Parks
51- "Energy and persistence conquers all things."

— Benjamin Franklin
52- "In the depth of winter, I finally learned that within me there lay an invincible summer."

— Albert Camus
53- "Inside of a ring or out, ain't nothing wrong with going down. It's staying down that's wrong."

— Muhammad Ali
54- "Fall seven times, stand up eight."

— Japaese Proverb
55- "Never give in. Never, never, never."

— Winston Churchill
56- "By the darkness, stars are revealed."

— Evette Carter
57- "Let perseverance be your engine and hope your fuel."

— H. jackson Brown, Jr.
58- "Every champion was once a contender that refused to give up."

— Sylvester Stallone
59- "It is not the mountain we conquer, but ourselves."

— Edmund Hillary
60- "If the wind will not serve, take to the oars."

— Latin Proverb
61- "Worry does not empty tomorrow of its sorrow. It empties today of its strength."

— Corrie ten Boom
62- "The only thing that overcomes hard luck is hard work."

— Harry Golden
63- "Be patient and tough; someday this pain will be useful to you."

— Ovid
64- "He knows not his own strength who hath not met adversity."

— William Samuel Johnson
65- "Being challenged in life is inevitable, being defeated is optional."

— Roger Crawford
66- "I am not afraid of storms, for I am learning how to sail my ship."

— Louisa May Alcott
67- "Leadership belongs to those who take it."

Sheryl Sandberg
68- "Either you run the day or the day runs you."

— Jim Rohn
69- "Don't just make money, make a difference."

— Grant Cardone
70- "You sleep like you're rich, I'm up like I'm broke."

— Grant Cardone
71- "To be interesting, be interested."

— Dale Carnegie
72- "Always be yourself, express yourself, have faith in yourself, do not go out and look for a successful personality and duplicate it."

— Bruce Lee
73- "You can't get there by bus, only by hard work and risk and by not quite knowing what you're doing. What you'll discover will be wonderful. What you'll discover will be yourself."

— Alan Alda
74- "There is hope, even when your brain tells you there isn't."

— John Green
75- "Mental health problems don't define who you are. They are something you experience. You walk in the rain and you feel the rain, but, importantly, YOU ARE NOT THE RAIN."

— Matt Haig
76- "If you are broken, you do not have to stay broken."

— Selena Gomez
77– "This feeling will pass. The fear is real but the danger is not."

— Cammie McGoven
78- "If you're going through hell, keep going."

— Winston Churchill
79- "Mental health needs a great deal of attention. It's the final taboo and it needs to be faced and dealt with."

— Adam Ant
80- "What mental health needs is more sunlight, more candor, and more unashamed conversation."

— Glenn Close
81- "You don't need to find a lesson in your trauma."

— Jordan Pickell, MCP RCC
82- "Change what you can, manage what you can't."

— Raymond McCauley
83- "If there is no struggle, there is no progress."

— Fredrick Douglass
84- "Good humor is a tonic for mind and body. It is the best antidote for anxiety and depression. It is a business asset. It attracts and keeps friends. It lightens human burdens. It is the direct route to serenity and contentment."

— Grenville Kleiser
85- "Anyone can hide. Facing up to things, working through them, that's what makes you strong."

— Sarah Dessen
86- Kind words can be short and easy to speak, but their echos are truly endless.

— Mother Teresa
87- Simplicity is the ultimate sophistication.

— Leonardo da Vinci
88- Problems are not stop signs, they are guidelines.

— Robert H. Schiuller
89- Hate comes from intimidation, love comes from appreciation.

–Tyga
90- Be so good they can't ignore you.

— Steve Martin
91- "Always look for the fool in the deal. If you don't find one, it's you."

— Mark Cuban
92- "It's not that we need new ideas, but we need to stop having old ideas."

— Edwin Land
93- "The last 10% it takes to launch something takes as much energy as the first 90%."

— Rob Kalin
94- "Stay self funded as long as possible."

— Garret Camp
95- "Don't be cocky. Don't be flashy. There's always someone better than you."

— Toy Hsieh
96- "A person who is quietly confident makes the best leader."

— Fred Wilson
97- "I never took a day off in my twenties. Not one."

— Bill Gates
98- "Trust your instincts."

— Estee Lauder
99- "When you find an idea that you just can't stop thinking about, that's probably a good one to pursue."

— Josh James
100- "Build your own dreams, or someone else will hire you to build theirs."

— Farrah Gray
101- "If you do what you've always done, you'll get what you've always gotten."

— Tony Robbins

— Tony Robbins