After 28 years, Amazon has cemented itself as the world's biggest internet company. Its explosive success can be attributed to its leadership principles – a set of 14 core values that guide business operations and employees alike.
Whether you're trying to land an interview at Amazon or just striving for exemplary performance in any job role, having a set of fundamental guidelines or leadership plan are key ingredients for successful outcomes. They enable professional growth within any company while emphasizing important traits like customer-centricity and transparency.
By committing yourself fully to this principle-driven path, you equip yourself with the tools needed to become a leader worthy of admiration! So let's delve into Amazon's 14 Leadership Principles and figure out how they can help you achieve your career goals.
14 Amazon Leadership Principles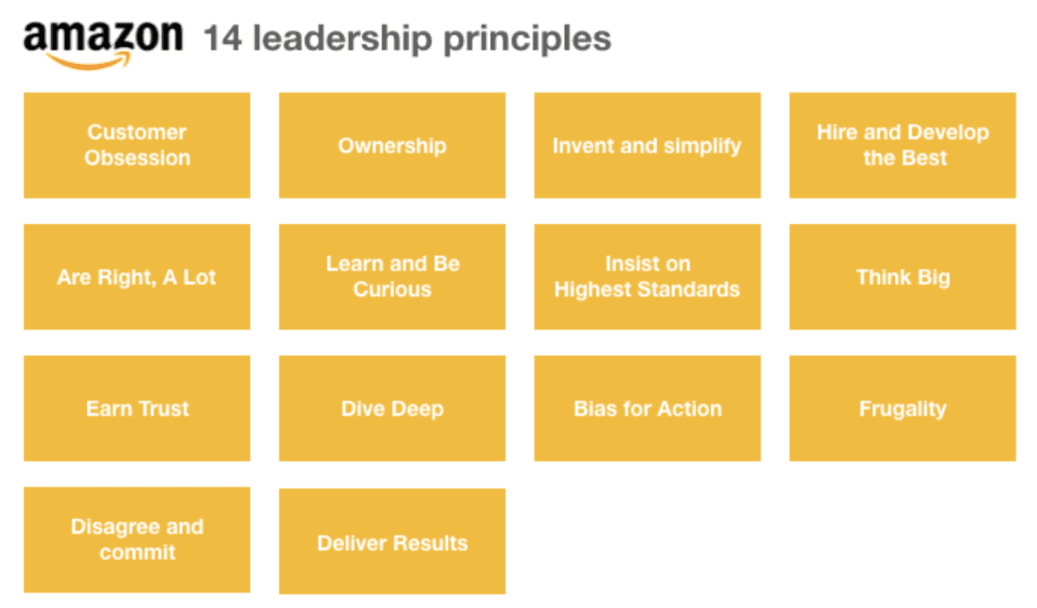 The 14 Amazon Leadership Principles provide the foundation for success in any career and are essential to becoming a leader of excellence. Let's explore them in further detail!
Customer Obsession
Amazon's Customer Obsession principle is all about putting customers first. This core value has been at the center of Amazon since day one and guides everything they do. It demands that its products, customer service strategies, and even internal processes be designed with the customer in mind. They believe that when customers have an excellent experience, it benefits everyone.
Amazon has earned the trust of its customers by placing them at the forefront and dedicating itself to their satisfaction. Jeff Bezos' marketing flywheel is a testament to this focus, as it demonstrates that excellent customer service drives momentum, increasing sales while fostering loyal relationships.
Ownership
Leaders are responsible for representing the company, and embracing accountability in all their decisions. True ownership is also about selflessly serving others and striving for collective success. This servant leadership style can drive higher productivity and empower employees with greater opportunity, ultimately benefiting everyone in the business.
In their effort to put customers first, Amazon's ownership principle is focused on taking complete responsibility for everything they do. It means Amazon takes ownership of potential problems or successes along the way, regardless of who or what the cause may be.
Besides, when it comes to the former, they try to resolve them as efficiently and quickly as possible. They firmly believe in investing time, resources, and energy into ensuring their customers always have quality results.
Invent And Simplify
The Amazon leadership team takes an 'Invent and Simplify' approach to business, recognizing that innovation is essential for growth. Real progress can be made by pushing the boundaries of experimentation while streamlining processes to make them easier, quicker, and cheaper to maintain efficiency.
Amazon encourages its leaders to think outside of the box, pushing them to develop original and creative ideas that can deliver top-notch results. Rather than relying on conventional methods, Amazon leaders seek to blaze new trails and challenge norms. Innovation is highly valued within the company, so leaders should strive to find unique solutions.
Likewise, stepping outside the box is the key to success for any leader. No doubt, exploration, and experimentation of new ideas can be intimidating. However, finding better techniques and strategies that'll stand out from what has been done in the past is important.
Are Right, A Lot
Successful leaders must have strong instincts, diverse perspectives, and sharp decision-making skills. At Amazon, leaders are trusted to make decisions with a full understanding of their industry and the team around them. They should embrace new ideas from employees to drive success within their departments.
Confident and thoughtful leaders are critical assets for Amazon, or any company for that matter. They must be sure in their decisions while considering the opinions of other team members. Debate should always remain on the table, so all parties can have faith, knowing they've reached optimal solutions with clear evidence-based roots. This is the key to achieving stronger business judgment, ensuring that the company moves toward success.
Learn And Be Curious
At Amazon, achieving excellence requires more than simply sticking to the status quo. Leaders look for ways to constantly expand their knowledge and challenge themselves with new ideas.
Amazon's Learn and Be Curious principle also encourages creativity, diversity, and curiosity in its workforce. Employees are encouraged to use their inherent curiosity to think outside the box, talk to colleagues from different backgrounds, share ideas, explore topics outside their comfort zone, and get comfortable with failure as part of learning.
By proactively exploring new ideas, Amazon hopes to stay at the forefront of technological advances while building a learning culture among its employees. The Learn and Be Curious principle creates an innovative environment that encourages everyone to embrace growth opportunities and continue their mission for success.
Hire And Develop The Best
Amazon aims to build a talented, productive team of high-achieving leaders who strive for excellence. Through this, Amazon continues to reach extraordinary heights of success.
Finding the right team members is paramount for any business, and investing in their growth promises payoffs far beyond short-term success. Besides, fostering a nurturing environment that allows employees to learn and reach new levels of capability allows them to become strong leaders. This long-term approach not only propels individual performance but also leads businesses to greater heights of accomplishment.
Insist On The Highest Standards
Amazon understands that its success is built on the caliber and commitment of its leaders. Therefore, these individuals must constantly strive for excellence by setting a lofty bar in both conduct and performance, enabling their teams to push themselves beyond traditional expectations. This sets Amazon apart as an organization continuously striving towards becoming better than before!
In the same way, it's essential to have high expectations in business. As a leader, you should set the bar higher than ever, so your team has something to strive for. By pushing them out of their comfort zone and encouraging them to do more, you're setting up a system for success. Don't forget to hold yourself accountable as well – if you only demand the best from your team, ensure you exhibit that same level of excellence.
Think Big
Leaders who understand the power of "thinking big" aren't afraid to take bold risks. Amazon exemplifies this approach and has dramatically changed its business, moving into grocery shopping, streaming media services, and cloud computing – all from a simple online bookstore! Thinking big is essential for successful leaders striving to make real-world change. And Amazon is an inspiring example of what's possible with faith in yourself.
Bias For Action
At Amazon, taking action quickly is highly valued. Leaders are expected to take risks and make decisions swiftly to minimize potential harm. Procrastinating isn't an option in their fast-paced environment.
Amazon's "Bias for Action" is a principle that defines its company culture and guides the decision-making processes of its employees. This principle encourages people to move quickly, take calculated risks, and act with a sense of urgency. Amazon believes that inaction or indecision can lead to missed opportunities.
Frugality
Amazon values teams that are self-reliant and creative in their problem-solving. It ensures a sense of accomplishment, not only by reaching objectives but also by showing the capability to do so with existing resources.
Frugality is not simply about being stingy or cutting corners. It's a habit of applying inventiveness and resourcefulness in the workplace. By taking advantage of both cost-saving measures and time-efficient practices, leaders can do more with less to achieve great things at their job.
Earn Trust
A good leader not only pays attention to everyone and shows respect but is also willing to be transparent about their own mistakes. They must stay committed to the highest standards of business practices so that colleagues look up to them with admiration and trust.
Leaders who practice transparency and respect in conversations, allowing open communication without fear of recrimination, create secure environments that foster support. The honest approach to servant leadership enables people to express their opinions freely, which builds trust with employees and strong relationships between peers.
Dive Deep
Amazon appreciates leaders who can think analytically and holistically: having an eye for the grand vision but also paying attention to details. To achieve this, they must forge connections across all parts of their organization, even when it may not seem necessary at first glance. By incorporating this mindset into their work ethic, these "dive deep leaders" increase efficiency within Amazon's system by ensuring no stone is left unturned.
Have Backbone; Disagree And Commit
"Having a backbone" is an English idiom meaning having strength. However, according to Amazon's leadership principles, it refers to standing up for your ideas. Amazon leaders advocate for their viewpoints without compromising respect and dignity. This is an essential trait that all leaders should possess.
Even when it can be awkward, leaders at Amazon recognize the importance of respectfully challenging decisions. When they feel strongly that one approach is right, they advocate for their opinion instead of caving to appease others. Besides, Amazon also fosters constructive debate and allows multiple perspectives in decision-making processes, demonstrating its commitment to reaching a consensus and getting the best possible outcome with each choice made.
Deliver Results
At Amazon, excellence doesn't necessarily mean doing more but rather achieving successful outcomes. Leaders must be well-versed in the fundamentals while responding quickly and effectively when faced with obstacles or setbacks. After all, others may create strategies for success – leaders at Amazon have just one mission: deliver results on time without compromising core values or their overall vision of success.
BONUS – 2 New Amazon Principles
In 2021, Amazon expanded its Leadership Principles from 14 to 16. The two additional principles include:
Strive To Be Earth's Best Employer
Leaders strive to build an environment where everyone can thrive: one that is secure, efficient, successful, diverse, and equitable. They foster a sense of compassion, inject fun into the workplace, and make it easy for others to do the same. A leader's key questions should always be: Are my coworkers developing? Do they feel empowered? Are they ready for what's on the horizon? Leaders have a clear goal to ensure employee growth and success, whether with Amazon or beyond.
Success And Scale Bring Broad Responsibility
Amazon started in a garage but has since become a major force with global impact. With this success comes an obligation to be humble and mindful of the consequences of their actions. They strive to make each day better than the last, not just for their customers, employees, and partners but also for local communities, the planet, and future generations. Their leaders strive to create more than they consume and always leave things better than how they found them.
The company continues to push itself forward, determined to be better in everything it does. They seek opportunities to make a positive difference and use their influence as a force for good.
Companies of all sizes have the power to transform, grow and innovate for their own prosperity as well as that of society. Leaders must be bold in driving these changes forward. It is only through doing so that meaningful impact can be made not just locally but globally too.
Why Do The 14 Principles Of Amazon Matter To Other Businesses?
Amazon's 14 principles serve as the foundation for its unprecedented success. By creating a framework of values that both new and established employees can adhere to, Amazon is able to remain at the forefront not only in terms of technology but also when it comes to human resources.
They create an environment where everyone has equal opportunity regardless of experience level or tenure – ultimately allowing them to hire top-notch talent while helping existing personnel achieve greater levels of excellence within their roles.
These principles also enable Amazon to foster collaboration and meaningful decision-making across departments, giving them the agility to respond quickly to changing market conditions.
Ultimately, companies of any size can use or take inspiration from these 14 principles as a model for their own processes, whether building better teams or creating smarter strategies for success. By understanding and internalizing these core values, organizations can leverage the same principles Amazon has used to become a leader in the industry.
Can Amazon Leadership Principles Be Successfully Implemented By All?
While Amazon's established principles have proved successful for the company, they may not fit as perfectly with other organizations seeking similar results. Imitation can only take so far. Truly thriving firms must be willing to dig deeper, stretching and adapting practices to make them better or different than what has been done before – a lesson nicely encapsulated by T.S Eliot's phrase: "Immature poets imitate; mature poets steal."
It's important to take inspiration from industry-leading principles, such as Amazon's, but create a vision and set of values tailored to your organization. Consider what matters most to you and lead with those guiding ideals in mind. Your company is distinct; don't be afraid to adjust leadership standards accordingly, so it reflects the same!
Conclusion
The 14 Principles of Amazon are the foundation upon which Jeff Bezos has built one of the most successful and respected businesses of our age. These principles are values and constants that define how Amazon works with its customers, employees, and vendors.
They state that customer obsession is at the core of the company's mission, that leadership is based on ownership and responsibility, and that inventiveness should be rewarded. Also included are clear ethical standards for respecting human resources and cultures and a firm commitment to operational excellence.
By living up to these basic tenets, Amazon shows it can be trusted to honor its promises through a seamless customer experience from start to finish. Indeed, these 14 Principles provide a roadmap for all businesses looking to epitomize excellence in their respective fields.
Frequently Asked Questions:
What are the benefits of Amazon's 14 Leadership Principles?
Amazon's 14 Leadership Principles are a powerful set of values that guide the company on its mission to become "Earth's most customer-centric company." The 14 principles include customer obsession, ownership, invent and simplify, delivering results, and many others.
The benefits of these principles are evident in everything Amazon does – from intense customer focus to creative problem-solving and innovation. Amazon firmly believes that amazing things happen when everyone works together using the same core set of leadership principles.
People feel empowered to develop creative solutions and encouraged to think outside the box – always considering what is best for the customer. This positive culture of collaboration ensures that each team is working towards a shared goal, ultimately leading to success.
What are some of the best tips from Amazon's 14 Leadership Principles?
Amazon's 14 Leadership Principles provide an excellent guide to success in the modern business world. Two of the best tips they offer are: "Insist on the Highest Standards" and "Earn Trust."
Insisting on the highest standards means setting clear expectations for yourself and your team, then holding everyone accountable. Doing this shows that you take every aspect of your company seriously and motivates employees to strive for success.
When it comes to earning trust, Amazon advises people to deliver results and keep commitments, be transparent with data and facts, and build successful relationships across teams. By taking all these steps, you'll create a workplace culture where people have faith in each other's abilities and proactively look out for one another's interests.
Understanding Amazon's leadership principles and implementing them into everyday practice can yield fantastic results for your business.
Did Amazon change its leadership principles?
Amazon has made some changes to its leadership principles in 2021. Like many businesses, Amazon felt it was time to focus more on inclusivity and environmental responsibility. As such, they developed two new principles: Strive To Be Earth's Best Employer and Success And Scale Bring Broad Responsibility.