Sundar Pichai, an Indian-American business executive, has become a household name in the world's information because of technology. As the CEO of Google and its parent company Alphabet Inc., Pichai has played a pivotal role in shaping the future of the internet, artificial intelligence, and numerous other technological advancements. This article explores the life, achievements, and contributions of Sundar Pichai, highlighting his journey from humble beginnings to becoming one of the most influential figures in the tech industry.
Early Life and Education
Sundar Pichai was born on July 12, 1972, in Chennai, India. Growing up in a middle-class family, he exhibited a keen interest in technology from a young age. His father, an electrical engineer, instilled in him a curiosity about the world of computers and science. Pichai attended Jawahar Vidyalaya, a renowned school in Chennai, where he excelled academically.
Childhood in India
Sundar Pichai's childhood in India laid the foundation for his future success in the technology industry. Born on July 12, 1972, in Chennai, India, Pichai grew up in a middle-class family that valued education and intellectual curiosity.
Raised in a modest household, Pichai's passion for technology was nurtured from a young age. His father, an electrical engineer, played a crucial role in fostering Pichai's interest in the world of computers and science. The exposure to his father's work and discussions about technological advancements ignited Pichai's curiosity and set him on a path of exploration.
Attending Jawahar Vidyalaya, a renowned school in Chennai, Pichai displayed exceptional academic abilities. He excelled in his studies, demonstrating a natural aptitude for mathematics and science. Pichai's school years provided him with a solid educational foundation and a supportive environment that encouraged intellectual growth.
Furthermore, Pichai's childhood in India exposed him to the realities of limited access to technology and information. This experience instilled in him a desire to bridge the digital divide and make technology more universally accessible to people from all walks of life. Pichai's early exposure to the disparities in access to technology would later shape his commitment to digital inclusion and connectivity initiatives.
The formative experiences of Pichai's childhood, influenced by his family and educational environment, laid the groundwork for his future endeavors in the field of technology. They sparked his interest, nurtured his passion, and planted the seeds of ambition that would propel him to become a leading force in shaping the future of technology.
Pursuing Education in Engineering
Pichai's passion for technology led him to pursue a degree in Metallurgical Engineering from the Indian Institute of Technology (IIT) Kharagpur. We explore his academic journey and the skills he acquired during his time at IIT.
Journey to the United States
Pichai's ambition and desire for further knowledge led him to the United States. We discuss his admission to Stanford University for postgraduate studies and the significant role this decision played in shaping his career trajectory.
Rise through the Ranks at Google
Joining Google
Pichai joined Google in 2004, initially working on the development of the Google Toolbar. We explore his early contributions to the company and the qualities that caught the attention of Google's co-founders, Larry Page and Sergey Brin.
Key Roles and Achievements
Leading the Chrome Project
Pichai played a crucial role in the development and launch of Google Chrome, the company's web browser. We discuss his leadership in making Chrome a significant competitor in the browser market and the subsequent success it achieved.
Overseeing Google Apps and Android
Pichai took charge of Google Apps, including Gmail, Google Drive, and Google Docs, making them more user-friendly and integrated. We also explore his instrumental role in the acquisition and development of Android, the world's most popular mobile operating system.
Playing a Crucial Role in Google's Expansion
Pichai's leadership and strategic insights played a pivotal role in expanding Google's services and products, including Google Maps, Google Search, and Google Photos. We highlight his contributions to these areas.
Becoming Google CEO
Success as Product Chief As Google's Product Chief, Pichai demonstrated exceptional leadership and a deep understanding of user needs. We discuss his achievements in this role, including the growth of Google's product portfolio and successful product launches.
Stepping into the CEO Role
Restructuring Google as Alphabet Inc. Upon the formation of Alphabet Inc. in 2015, Pichai was appointed CEO of Google. We explore the restructuring and the new challenges Pichai faced in overseeing Google's various subsidiaries.
Focus on Innovation and New Initiatives Pichai has emphasized innovation and the pursuit of ambitious projects during his tenure. We delve into his leadership style and initiatives, such as the development of Google Assistant, Google Home, and self-driving cars under Waymo.
Contributions to the Tech Industry
Artificial Intelligence and Machine Learning
Integration of AI in Google Products Pichai has been instrumental in infusing artificial intelligence across Google's products and services, including search algorithms, voice recognition, and image analysis. We discuss the impact of AI on Google's offerings.
Advancements in Natural Language Processing Under Pichai's leadership, Google made significant progress in natural language processing, enabling more accurate voice recognition and language translation capabilities. We highlight the advancements made in this field.
Privacy and Security
Reinforcing User Data Protection Measures Pichai has prioritized user privacy and data protection. We discuss the measures implemented to strengthen user trust, such as enhanced privacy controls and transparency reports.
Implementing Strong Encryption Standards Recognizing the importance of secure communication, Pichai has advocated for strong encryption standards. We explore Google's efforts in implementing encryption across its platforms.
Sundar Pichai's Leadership Style
Empowering Employees and Teams
Pichai is known for fostering a culture of innovation and empowerment within Google. We discuss his approach to leadership, which encourages creativity drive innovation, collaboration, and autonomy among employees.
Advocating for Diversity and Inclusion
He strongly believes in the power of diversity and inclusivity in society. We explore his efforts to create a more inclusive work environment and bridge the gender and diversity gap in the tech industry.
Balancing Innovation and Ethics
As the head of a tech giant, Pichai faces the challenge of balancing innovation with ethical considerations. We discuss his approach to ethical decision-making and the importance of responsible AI development.
Challenges and Criticisms
Data Privacy Concerns Google's vast collection of user data has raised concerns about privacy and data security. We discuss the challenges Pichai faces in addressing these concerns and his efforts to strengthen user privacy.
Monopoly and Antitrust Issues Google has faced scrutiny from regulatory bodies regarding potential antitrust violations. We explore the antitrust challenges faced by Pichai and his strategies to address these concerns.
Political and Social Controversies As the CEO of a global company, Pichai has faced controversies related to political bias and censorship. We delve into the challenges he has encountered in navigating these sensitive issues.
Philanthropy and Social Initiatives
Google.org and Charitable Endeavors
Google CEO Sundar Pichai has been actively involved in Google's philanthropic arm, Google.org. We discuss the initiatives supported by Google.org and Pichai's commitment to using technology for social good.
Digital Education and Connectivity Efforts
He recognizes the transformative power of technology in education. We highlight his efforts to expand digital education initiatives, including Google for Education and initiatives to bridge the digital divide.
Promoting STEM Education and Women in Tech
Pichai is passionate about promoting STEM education and encouraging women's participation in technology fields. We discuss his advocacy for STEM programs and initiatives aimed at empowering women in tech and other organizations.
Future Outlook and Legacy
Embracing Emerging Technologies
Pichai continues to lead Google's efforts in embracing emerging technologies such as augmented reality, virtual reality, and quantum computing. We explore his vision for the future of technology.
Continued Commitment to Sustainability
Pichai recognizes the importance of sustainability and has committed Google to carbon neutrality and the use of renewable energy. We discuss his sustainability initiatives and their impact on the environment.
Inspiring the Next Generation of Tech Leaders
Pichai's journey and achievements serve as an inspiration for aspiring tech leaders. We explore how his visionary leadership and accomplishments continue to motivate and shape the next generation of innovators.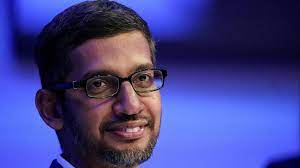 Sundar Pichai's journey from a small town in India to leading one of the world's most influential tech companies is nothing short of inspiring. Through his vision, innovation, and commitment to creating a better digital world, Pichai has made an indelible mark on the tech industry. As he continues to push the boundaries of technology and spearhead transformative initiatives, Sundar Pichai remains an icon, inspiring future generations to dream big and shape the future of technology for the better.