"Big companies have always needed and cooperated in areas where it made sense." – Larry Page
Larry Page stands out as one of the most influential and innovative minds of our time in the realm of technological visionaries. As a co-founder of Google and the driving force behind its unprecedented success, Page has revolutionized the way we access and utilize information. This article delves into the life and achievements of Larry Page, exploring his entrepreneurial journey, technological contributions, and enduring impact on the world's information and the digital landscape.
Early Years and Educational Pathway
Childhood and Early Influences
Larry Page was born on March 26, 1973, in East Lansing, Michigan. Growing up in a household with computer science professors as parents, Page was exposed to technology from an early, young age. His parents' passion for academics and research instilled in him a deep curiosity and love for knowledge.
Pursuit of Knowledge: Education at Stanford University
Page pursued his passion for computer science at Stanford University, where he earned a Bachelor of Science degree. During his time at Stanford, he met Sergey Brin, and their shared enthusiasm for technology laid the foundation for a transformative partnership.
Co-founding Google
The Birth of a Game-Changing Idea
In 1996, Larry Page and Sergey Brin embarked on a project to develop a search engine that would provide more accurate and relevant and relevant search results everywhere. They named it "Backrub," which eventually evolved into the revolutionary search engine we now know as Google.
Google's Early Years and Rapid Growth
In 1998, Page officially co -founded the Google search, with Brin in a garage in Menlo Park, California. With its unique algorithm, PageRank, Google quickly gained popularity for its ability to deliver more accurate search results. The company's growth skyrocketed, attracting investors and users worldwide.
The Founding Principles: "Don't Be Evil"
Page and Brin established a set of guiding principles for Google, with the mantra "Don't Be Evil" at its core. This philosophy emphasized the importance of maintaining ethical practices and user trust, guiding Google's decisions and actions throughout its evolution.
Initial Challenges and Triumphs
Google faced numerous challenges in its early years, including competition from established search engines and the dot-com bubble burst. However, Page's innovative strategies and relentless pursuit of improvement propelled Google forward. The company's successful initial public offering in 2004 marked a major milestone, solidifying its position as a tech giant.
PageRank: The Algorithm that Changed Everything
Understanding PageRank's Significance
PageRank, the groundbreaking algorithm developed by Page and Brin, revolutionized web search. It introduced the concept of ranking web pages based on their relevance and popularity, rather than solely relying on keyword matching.
The Implications of an Effective Search Engines
With the advent of PageRank, Google set new standards for search engine functionality. Its accurate and efficient search results provided internet users with a seamless experience, empowering them to access information quickly and effectively.
Expansion Beyond Search
Building on the success of Google's search engine, Page played a pivotal role in expanding the company's services business. Google Maps, Gmail, Google News, and numerous other innovations transformed Google into a comprehensive technology powerhouse.
Google's Multifaceted Ventures
Google's Acquisitions and Innovations
Under Page's leadership as CEO from 2001 to 2011 and later as Alphabet Inc.'s CEO, Google embarked on a series of strategic acquisitions and investments. These ventures included YouTube, Android, Nest, and DeepMind, enabling Google to diversify its offerings and enter new markets.
Android: The Mobile Revolution
Recognizing the potential of mobile technology, chief executive. Page spearheaded the acquisition of Android Inc. in 2005. This strategic move led to the development of the Android operating system, which revolutionized the smartphone industry and propelled Google's dominance in the mobile market.
Pushing Boundaries with Google X
Page's forward-thinking mindset and ambition to tackle tech industry most grand challenges led to the creation of Google X, now known as X Development LLC, a subsidiary of Alphabet Inc. The secretive research lab aimed to develop groundbreaking technologies such as self-driving cars, Project Loon, and Google Glass.
Alphabet Inc.: A New Era of Innovation
The Restructuring of Google
In 2015, Page oversaw a significant corporate restructuring, creating Alphabet Inc. as Google's parent company. This reorganization aimed to separate Google's core businesses from its more ambitious and experimental ventures under the Alphabet umbrella.
The Formation of Alphabet Inc.
With Page assuming the role of Alphabet's CEO, the company continued to expand into diverse fields such as life sciences, artificial intelligence, smart cities, and autonomous vehicles. Alphabet's structure allowed for greater autonomy and focus on individual companies and projects.
Exploring New Frontiers: Alphabet's Ventures
Under Page's guidance, Alphabet's subsidiaries, including Waymo, Verily, and Sidewalk Labs, have pioneered transformative technologies, ranging from autonomous vehicles and healthcare innovations to urban development and sustainability initiatives.
Philanthropic Efforts
The Launch of the Page Family Foundation
Page and his wife, Lucinda Southworth, are dedicated philanthropists. In 2004, they established the Page Family Foundation, which supports a wide range of causes, including education, poverty alleviation, environmental conservation, and scientific research.
Focus Areas and Impactful Projects
Through the Page Family Foundation, Page has contributed to initiatives like Google.org, which supports nonprofit organizations leveraging technology for social impact. Additionally, the foundation has backed research and development in renewable energy and clean technologies, aiming to the technology industry address pressing global challenges.
Legacy and Lasting Impact
Shaping the Digital Era
Larry Page's visionary leadership and commitment to innovation have left an indelible mark on the digital era. His unwavering pursuit of excellence and user-centric approach have shaped how we access and interact with information, revolutionizing industries and empowering individuals worldwide.
Inspiring Future Generations
Page's entrepreneurial journey and transformative impact serve as an inspiration for aspiring innovators and entrepreneurs. His emphasis on disruptive thinking, relentless pursuit of knowledge, and ethical decision-making provide a blueprint for those seeking to make a meaningful and lasting difference.
Larry Page: A Pioneer's Journey Continues
As Larry Page's journey continues, his insatiable curiosity and commitment to pushing boundaries promise continued technological advancements and game-changing innovations. The impact of his contributions to the digital landscape will resonate for generations to come.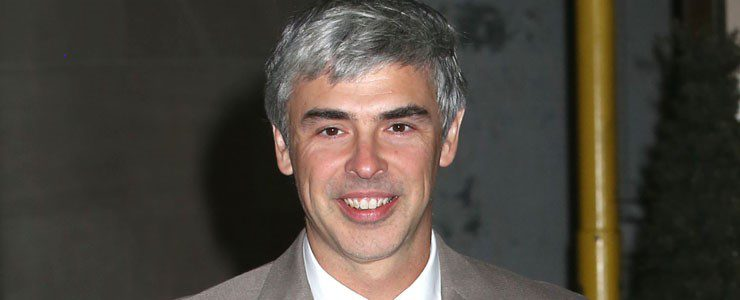 Larry Page's groundbreaking contributions to the digital landscape have left an indelible mark on the world. From co-founding Google and revolutionizing search technology to spearheading Alphabet Inc.'s diverse ventures, Page has consistently pushed boundaries and redefined possibilities. His dedication to innovation, unwavering pursuit of knowledge, and commitment to making information universally accessible to all have transformed the way we live, work, and interact with technology. As Larry Page's journey continues, we can only anticipate the new frontiers he will explore and the transformative impact he will undoubtedly leave in his wake.