Jeff Bezos, the man behind Amazon, is not only one of the world's wealthiest individuals but also a visionary entrepreneur who revolutionized e-commerce. His relentless pursuit of innovation and bold ambition have propelled him to the forefront of the business world. This article explores Jeff Bezos's journey, highlighting his key accomplishments, successful business ventures, contributions to society, and his recent foray into space exploration.
Early Life and Entrepreneurial Spirit
Childhood and Education
Jeffery Preston Bezos, born on January 12, 1964, in Albuquerque, New Mexico, exhibited exceptional intellectual abilities and an insatiable curiosity from a young age. Even as a child, Bezos demonstrated a penchant for deconstructing household objects, driven by an inherent desire to comprehend their inner workings. These early explorations foreshadowed his future as an innovator and served as a testament to his innate inquisitiveness.
Bezos attended Miami Palmetto High School, where he excelled academically and demonstrated strong leadership skills. His passion for computer science and electrical engineering became evident when he created the Dream Institute, a summer educational program for high school students, which focused on topics like computer science, space colonization and artificial intelligence.
After completing high school, Bezos pursued higher education at Princeton University. During his time at Princeton, he continued to exhibit his intellectual prowess and engaged in thought-provoking discussions and debates. It was during his college years that Bezos met his future wife, Mackenzie Tuttle. Following graduation, Bezos embarked on a career in finance, working at various firms including Bankers Trust and D.E. Shaw.
However, Bezos's life took a different turn when his mother remarried Mike Bezos, who became a significant figure in his life. The support and influence of Mike Bezos played a pivotal role in shaping Jeff's entrepreneurial journey.
Throughout his personal and academic journey, Bezos's exceptional intellect, curiosity, and ambition set the stage for his groundbreaking achievements as an entrepreneur and visionary.
The Birth of Amazon
In 1994, Bezos came across a statistic indicating that the the internet market was growing at an astounding rate of 2,300% per year. Recognizing the untapped potential of e-commerce, he left his lucrative job on Wall Street to embark on an entrepreneurial journey.
Bezos founded Amazon in his garage in Seattle, Washington, with a mission to create "Earth's most customer-centric company." The initial focus of parent company was on selling books online, capitalizing on the vast selection and convenience sold books that the internet offered. Bezos's vision went beyond mere book sales, as he understood the transformative power of the internet in reshaping various industries.
Amazon: Building an E-Commerce Empire
Inception and Initial Growth
Amazon.com, spearheaded by Jeff Bezos as an e-commerce pioneer, was officially launched in July 1995, and the response was both immediate and overwhelming. Within a remarkably short span of one month, the company managed to ship books to all 50 states in the United States, as well as 45 countries across the globe. This remarkable achievement can be attributed to Bezos's relentless drive and investment firm' unwavering commitment to ensuring customer satisfaction, which played a pivotal role in Amazon's early triumphs.
Expanding Beyond Books
Bezos realized that the market value of Amazon's infrastructure and innovative business model could be extended beyond its initial focus on books. With this realization, the company strategically expanded its offerings to encompass a diverse range of products, including music, electronics, toys, and much more. This deliberate diversification not only broadened Amazon's customer base but also laid a solid foundation for its transformation into a global e-commerce giant. Through astute decision-making and effective press promotion, Bezos and his team successfully positioned Amazon as a trusted and go-to destination for a wide array of consumer goods, establishing the company's unparalleled presence in the online retail industry.
Disrupting Traditional Retail
Amazon's entry into the retail industry disrupted traditional brick-and-mortar stores. Its extensive selection, competitive pricing, and efficient logistics revolutionized the way people shop. Bezos's focus on operational excellence and continuous innovation allowed Amazon to gain a significant market share.
Kindle and Digital Publishing
In 2007, Amazon, one of the leading online retailers, introduced the Kindle, a groundbreaking e-reader that fundamentally transformed the reading experience. Jeff Bezos, recognizing the immense potential of digital publishing, took a significant step forward by establishing the Kindle Direct Publishing platform. This innovative platform empowered authors to self-publish their work, effectively democratizing the publishing industry and paving the way for a new generation of writers to emerge. With this strategic move, Bezos propelled the shift towards digital literature and harnessed the power of online platforms for both readers and writers.
Innovation and Diversification
Cloud Computing with Amazon Web Services (AWS)
Bezos's keen foresight led him to recognize the immense potential of cloud computing, leading to the launch of Amazon Web Services (AWS) in 2006. With AWS, Bezos set the stage for a technological revolution, providing businesses with scalable and cost-effective cloud computing solutions. This strategic move proved to be a game-changer, as companies across industries swiftly embraced the benefits of cloud technology. By offering a robust infrastructure and an array of services, Amazon flourished as a trailblazer in the realm of cloud computing, solidifying its position as a leader in the tech industry.
Acquisition of Whole Foods Market
In 2017, Amazon made a bold move by acquiring Whole Foods Market, a prominent organic grocery chain. This acquisition signaled Amazon's entry into the brick-and-mortar retail space and showcased Bezos's commitment to transforming the way people shop for groceries.
Launching Amazon Prime
In addition to its innovative features, Amazon Prime has also forged major retail partnerships, further enhancing its value proposition. By collaborating with renowned brands and retailers, Amazon Prime offers its members exclusive access to a wide range of products and services. These strategic alliances have strengthened Amazon's position as a one-stop destination for customers, amplifying the convenience and variety available through the Prime membership. This emphasis on forming major retail partnerships underscores Bezos's commitment to continually expanding and enhancing the Prime ecosystem, providing an unparalleled shopping experience to millions of subscribers worldwide.
Introduction of Echo and Alexa
In 2014, Amazon unveiled the Echo, a smart speaker equipped with a voice-activated intelligent assistant called Alexa. Bezos recognized the potential of voice technology and created a new market segment. The Echo and Alexa ecosystem now offer a wide range of capabilities, from controlling smart home devices to providing information and entertainment.
Charitable Endeavors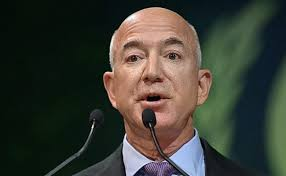 The Day One Fund
In 2018, Jeffrey Preston Bezos and his then-wife, MacKenzie Scott, announced the creation of the Day One Fund with a $2 billion commitment. The fund focuses on initiatives to combat homelessness and improve early childhood education.
The Bezos Earth Fund
In 2020, Bezos announced the establishment of the Bezos Earth Fund, making a significant commitment of $10 billion to tackle the urgent issue of climate change. This landmark initiative seeks to provide crucial support to organizations and initiatives dedicated to scientific research, renewable energy advancements, and other impactful efforts aimed at addressing environmental challenges. Through the Bezos Earth Fund, Bezos demonstrates his unwavering commitment to making a tangible and lasting impact in the global fight against climate change, recognizing the urgent need for collective action to safeguard the planet for future generations.
Blue Origin: A Vision for Space Exploration
Bezos's interest in space exploration led him to establish Blue Origin, a private aerospace company, in 2000. With the goal of making space travel accessible to all, he founded Blue Origin which focuses on developing reusable rockets and spacecraft. Bezos views space as humanity's future and envisions a world where people live and work in space colonies.
Blue Origin: Pushing the Boundaries of Space
Founding Blue Origin
Bezos's unwavering passion for space exploration drove him to utilize his personal wealth to fund the development of Blue Origin. This private aerospace company is driven by a grand vision—to create a future where millions of individuals can thrive and contribute in space environments. By investing in Blue Origin, Bezos actively fosters the advancement of technologies and systems that will make space travel and habitation more accessible and sustainable. His commitment to pushing the boundaries of space exploration exemplifies his determination to pave the way for a future where humanity can expand its horizons beyond Earth's confines.
New Shepard: The First Step
Blue Origin's New Shepard is a suborbital rocket system designed for space tourism and scientific research. It has successfully completed multiple crewed and uncrewed flights, including those with Bezos himself and other paying customers.
Lunar Ambitions with Blue Moon
As a space entrepreneur, Bezos is deeply involved in Blue Origin's Blue Moon project, which sets its sights on developing a lunar lander with the capacity to transport payloads and, ultimately, humans to the Moon. Bezos envisions the establishment of a sustainable presence on the Moon as a critical milestone that will propel humanity towards broader exploration and eventual colonization of space. By spearheading this ambitious endeavor, Bezos exemplifies his unwavering commitment to advancing space exploration and paving the way for a future where humans can expand their horizons beyond Earth.
New Glenn: A Reusable Rocket for Commercial Use
Blue Origin is developing New Glenn, a reusable heavy-lift rocket designed to compete with other commercial launch providers. The goal is to reduce the cost of access to space and foster a thriving space economy.
Leadership Style and Business Philosophy
Customer Obsession and Long-Term Thinking
Bezos's customer-centric approach prioritizes long-term customer satisfaction over short-term gains. He believes that by relentlessly focusing on customer needs, businesses can build lasting relationships and drive innovation.
Embracing Failure and Learning from Mistakes
Bezos embraces a culture of experimentation and encourages risk-taking. He views failure as a necessary part of the learning process and believes that it is essential for driving innovation and growth.
The Importance of Innovation and Experimentation
Bezos cultivates a culture of innovation both within Amazon and Blue Origin, recognizing that it is essential for propelling progress in a nascent world. He actively encourages employees to think beyond boundaries, embrace bold ideas, and challenge conventional norms. By fostering an environment that values experimentation and embraces calculated risks, Bezos empowers individuals to push the boundaries of what is possible. This relentless pursuit of innovation has been a fundamental pillar of Bezos's success, enabling him to navigate uncharted territories and drive transformative change in industries ranging from e-commerce to space exploration.
Personal Wealth and Influence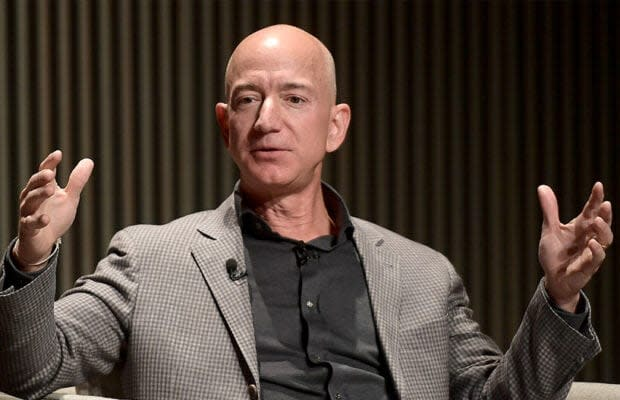 Becoming the World's Richest Person
Jeff Bezos's entrepreneurial success propelled him to become one of the world's wealthiest individuals. Through his relentless drive, strategic vision, and shrewd investments, Bezos amassed a vast personal fortune. However, Bezos promised to utilize his wealth for the greater good and to address societal challenges.
Impact on Wealth Inequality and Criticisms
Bezos's wealth accumulation has also attracted scrutiny and criticism regarding wealth inequality. Critics argue that the concentration of wealth in the hands of a few individuals exacerbates societal disparities. Bezos has acknowledged these concerns and pledged to address them through his philanthropic initiatives.
Transition from CEO to Executive Chair of Amazon
In 2021, Bezos stepped down as CEO of Amazon, transitioning from chief executive on to the role of Executive Chair. This move allowed him to focus on other ventures, including Blue Origin and philanthropic endeavors, while still retaining influence over Amazon's strategic direction.
Conclusion
Jeff Bezos's entrepreneurial journey has been marked by his relentless pursuit of innovation, customer obsession, and long-term thinking. From creating Amazon and transforming e-commerce to pushing the boundaries of space exploration with Blue Origin, Bezos has continuously disrupted industries and shaped the future. His philanthropic efforts and commitment to addressing global challenges demonstrate his dedication to making a positive impact on society. As Bezos's influence continues to evolve, his legacy as a visionary entrepreneur and space pioneer will undoubtedly endure for generations to come.
"One of the only ways to get out of a tight box is to invent your way out." – JEFF BEZOS
FREQUENTLY ASKED QUESTIONS ABOUT JEFF BEZOS
How old was Jeff Bezos when he started Amazon?
At the age of 30, Jeff Bezos launched Amazon driven by a compelling revelation. Encountering a staggering statistic that web usage was expanding at a remarkable rate of 2,300% annually, Bezos was motivated to identify a business that aligned with and capitalized on this extraordinary growth.
Jeff Bezos net worth
149.4 billion USD
Where is Jeff Bezos right now?
Despite relinquishing his position as CEO of Amazon in 2021 and assuming the role of executive chair, Jeff Bezos continues to actively contribute to the company's commitment to sustainability.
How did Jeff Bezos start Amazon?
In 1994, Jeff Bezos made the bold decision to depart from his job as senior vice president at an investment bank and relocate to Seattle, Washington. With a vision of establishing an online bookstore, Bezos embarked on a journey that started in his own garage. With a small team, he dedicated himself to developing the software for the online bookstore platform, eventually giving birth to what would become known as Amazon.com. In 1995, the site achieved a significant milestone by selling its online bookseller its very first book.