"To create something exceptional, your mindset must be relentlessly focused on the smallest detail." – Giorgio Armani
Giorgio Armani, an Italian fashion maestro, has left an indelible mark on the world of high-end fashion with his unparalleled designs and timeless elegance. With a career spanning several decades, Armani has become synonymous with sophistication, influencing generations of designers and revolutionizing the way we perceive fashion. This article delves into the life, accomplishments, and enduring legacy of Giorgio Armani.
Early Life and Career
Birth and Background
Giorgio Armani was born on July 11, 1934, in Piacenza, Italy. Raised in a humble background, his passion for fashion developed at a young age. Despite facing initial resistance from his parents, Armani pursued his dream and set the stage for an extraordinary career.
Education and Early Influences
Armani studied medicine for a brief period before venturing into the world of fashion. His time at the renowned department store, La Rinascente, provided him with invaluable experience and exposure to the fashion and beauty industry. Working as a window dresser, Armani honed his eye for design and developed a keen understanding of customer preferences.
Rise in the Fashion Industry
In the late 1960s, Armani gained recognition as a designer for Nino Cerruti. His breakthrough came in 1975 when he founded his eponymous label, Armani. With a focus on clean lines, understated luxury, and impeccable tailoring, Armani quickly became a symbol of elegance.
After launching his namesake label in 1975, Armani honed in on his singular approach, eschewing transient trends for classic, and redefining the concept of sophistication in the fashion world.
Giorgio Armani: The Brand
Founding of the Armani Label
Giorgio Armani's eponymous label was launched in Milan, Italy, with the vision of creating sophisticated, ready-to-wear clothes for men and women. The brand's minimalist aesthetic and meticulous attention to detail set it apart from its contemporaries.
Iconic Collections and Signature Style
Armani's design philosophy revolves around the idea of simplicity, elegance, and functionality. His collections feature impeccably tailored suits, fluid dresses, and versatile separates, all characterized by a neutral color palette and exquisite fabrics. Armani's mastery lies in his ability to create effortlessly chic and timeless pieces.
Expanding the Brand's Horizons
Recognizing the demand for Armani's aesthetic, the brand expanded into various lines, including Armani Exchange, Emporio Armani, Armani Jeans, and Armani Privé. Each line catered to different markets and offered a distinct interpretation of Armani's vision, making his designs accessible to a wider audience.
Fashion Innovations
Power Dressing and the "Armani Suit"
Armani revolutionized power dressing with his iconic suits. Departing from the traditional rigid structure, he introduced softer, unstructured silhouettes that provided comfort without compromising elegance. The "Armani Suit" became a symbol of professional success and confidence.
Redefining Women's Fashion
Armani challenged conventional notions of women's fashion by introducing tailored garments that exuded a sense of femininity and power. His designs showcased a balance between sensuality and restraint, empowering women to embrace their individuality while maintaining a timeless allure.
Bridging the Gap Between Casual and Luxury
He recognized the growing demand for casual elegance and introduced the concept of elevated leisurewear. He seamlessly blended luxurious fabrics with relaxed silhouettes, creating a new category of sophisticated casual evening wear that bridged the gap between comfort and style.
Impact on Pop Culture
Armani on the Red Carpet
Armani's creations have graced red carpets around the world, adorning countless celebrities at prestigious events. From Hollywood's biggest stars to royalty, Armani's designs and accessories have become synonymous with glamour and refinement, solidifying his status as a go-to designer for special occasions.
Armani in Film and Television
Armani's influence extends beyond the runway. His collaboration with filmmakers has resulted in iconic costumes that have brought characters to life on the silver screen. From Richard Gere's sleek wardrobe in "American Gigolo" to Jodie Foster's elegant attire in "The Silence of the Lambs," Armani's designs have become an integral part of cinematic history.
Collaborations and Celebrity Endorsements
Armani's own collection and impeccable reputation has attracted collaborations with esteemed personalities and brands. From sports icons like Cristiano Ronaldo to collaborations with luxury hotels and home furnishings, Armani's brand has expanded its reach into diverse industries, further solidifying its global impact.
Charitable Contributions
Armani's Environmental Initiatives
Recognizing the importance of sustainable fashion, Armani has spearheaded numerous initiatives to reduce the brand's environmental footprint. The use of eco-friendly materials, responsible sourcing practices, and investment in renewable energy sources are among the brand's endeavors to promote a greener fashion industry.
Humanitarian Efforts and Charitable Foundations
Armani has been actively involved in philanthropy, supporting various causes such as education, healthcare, and disaster relief. The Armani Foundation focuses on improving the well-being of individuals worldwide through charitable donations and initiatives that prioritize social development.
Support for Emerging Designers
Armani understands the value of nurturing new talent. Through initiatives like the Armani/Laboratorio, a program that mentors young designers, he contributes to the growth and development of the fashion industry by providing aspiring designers with the necessary guidance and resources to succeed.
The Armani Legacy
Influence on the Fashion Industry
Giorgio Armani's impact on the fashion industry is immeasurable. His innovative designs and emphasis on timeless elegance have influenced countless designers, shaping the way we perceive and appreciate fashion. The Armani aesthetic remains an enduring benchmark of sophistication and refinement.
Perseverance and Longevity
His ability to maintain relevance and success in a constantly evolving industry is a testament to his talent and business acumen. His unwavering commitment to quality and consistency has solidified the Armani brand as a global powerhouse.
Armani's Enduring Relevance
Even after decades in the fashion industry, Armani continues to captivate audiences with his visionary designs. His ability to adapt to changing trends while staying true to his aesthetic is a testament to his artistic vision and unwavering dedication.
Final Thoughts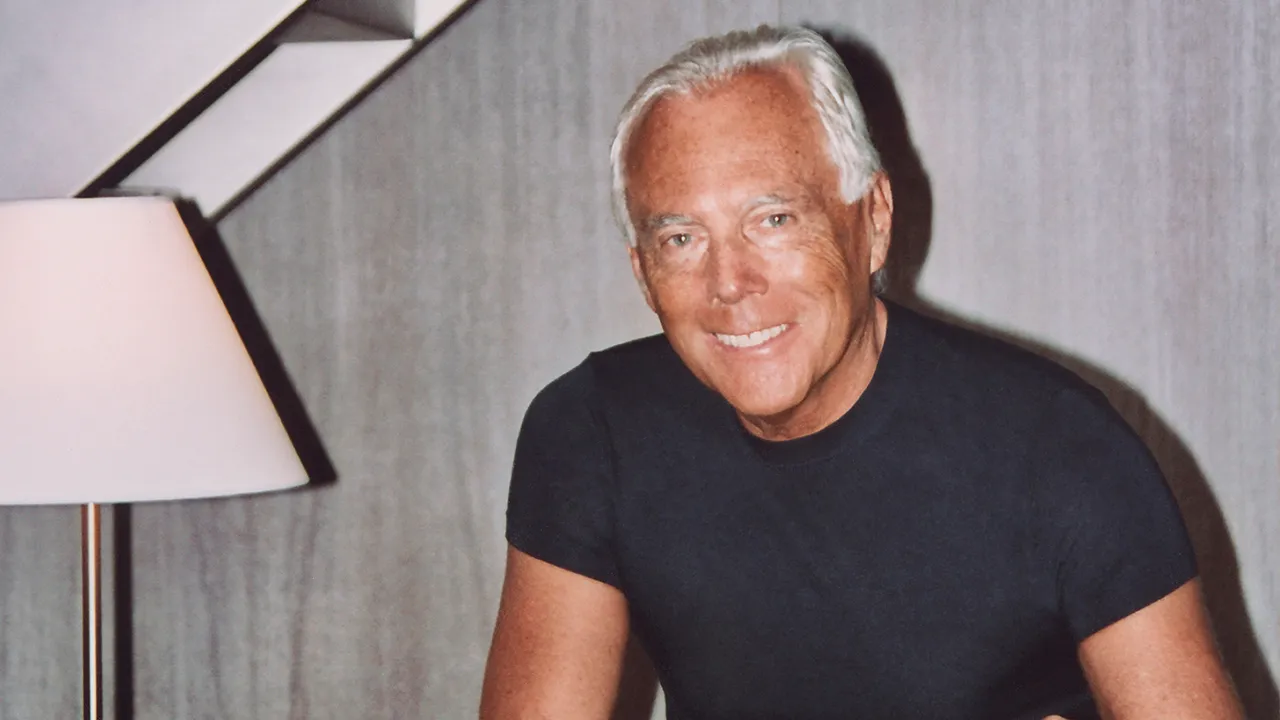 Giorgio Armani's journey from a small town in Italy to becoming an internationally renowned fashion icon is a testament to his extraordinary talent and perseverance. Through his eponymous brand, Armani has redefined elegance and style, leaving an indelible mark on the fashion industry. His enduring legacy and commitment to innovation and philanthropy make him an inspirational figure for generations to come.