https://www.instagram.com/p/ChB517rD4Sq/
Short haircuts for men are popular because they are easy to maintain. Short haircuts are the best option if you are a man who loves to wake up and leave the house without having to do a lot of preparations. There are so many short hairstyles that you can have fun exploring every time you visit your barber.
If you love having your hair short at all times, but you like diversity, you should be aware of the different kinds of short haircuts that you can get. Short haircuts are always smart and never frustrate if they are done perfectly. The following is a discussion on some of the cute short haircuts for men you can try.
Crew Cut
The crew cut is very common among short haircuts for men because it is stylish and easy to maintain.
 It is the perfect haircut if your hair is naturally thick and you have a square face. However, this does not mean that men cannot do it with other face shapes.
The hair length in crew cut is not uniform all over the head like it is with military cut, and this gives you the opportunity to style it in different ways.
Classic Buzz Cut
This haircut is very easy to maintain, but it does not give you the opportunity to style it in many different ways. It is perfect if your hair is thick and you want a rugged army look.
Ivy League
This is the perfect hairstyle for a business professional look. It can be done on all sorts of hair textures and by men of all types of skin tones.
The hair at the top is left longer than the one on the sides, and it is spiced up with a side part on the top.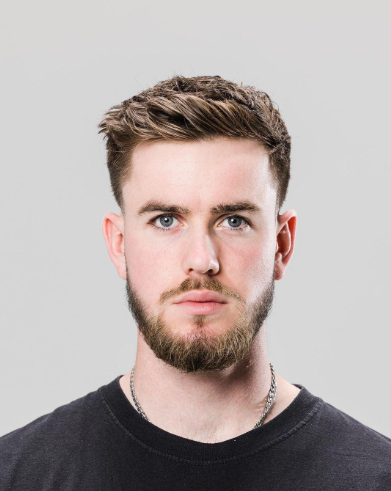 https://www.instagram.com/p/Cg47sZqKqQM/ 
Classic Comb Back With a Fade
This haircut makes you look sophisticated without you having to try. This haircut idea requires high maintenance compared to other ideas. It is best if you have a round face and thick hair. You can wear this hairstyle to all sorts of events, both casual and formal.
Side Part Fade
This idea of short haircuts for men is timeless and can be worn by men of all ages. The idea features a fade on the sides, and a sharp cut is done between the long hair at the top and the short hair on the side. This style requires regular visits to the barber to keep the part clean.
Pompadour With a Taper Fade
If you love a pompadour and a taper fade, you can have fun blending them together on your short hair. The hairstyle should have a lot of volume at the top and short hair on the sides.
High and Tight
The unique feature of this idea is the faded sides and the long top crown. The hairstyle is usually between a crew cut and a buzz cut. It is a versatile style that can be done in all sorts of hair textures.
https://www.instagram.com/p/CfO51Kps26w/
Classic Caesar Cut
This one is usually edgy and requires some effort, especially in styling. It can be done on all sorts of face shapes, and you can rock in it for a party or a formal meeting.
Short Buzz Cut 
If you feel that the classic buzz cut is longer than you want it to be, you can still go shorter. You only need to change the haircut number and do the normal buzz cut.
Messy French Crop
This best works if you have straight hair. It features a longer length at the top and a fade at the back and the sides. The top should be left with messy hair, which can be achieved using styling gel.
Short Quaff With Faded Sides
It is simply a combination of a quaff and faded sides and back. Men can wear it with any face shape and hair texture.
Fade With Spike
If you have thin hair and want to try short haircuts for men, this is the idea for you. It helps bring some illusion of extra volume on the top.