ARTHUR P BECKER, popularly known as the former CEO of Zinio and Navisite, is an American investor and a real estate magnate.  Arthur Becker has been in various businesses. Though he has succeeded in most of his businesses, he has also failed numerous times. But, he learned from his failures and avoided the same mistakes in the future. According to Arthur Becker, "Strategy needs to be reflective of the business vertical. In a broad context, talent is the key to success: identifying the talent, persuading talented people to your vision or that of the business, and then getting out of the way."
Source: therealdeal.com
Arthur Becker is a known personality because of his entrepreneurial skills and being married to a popular designer, Vera Wang. For seven years, Becker has been a senior adviser to his ex-wife's company Vera Wang Fashion Company. After Navisite was sold in 2011, Arthur Becker has been a private investor in real estate and technology. 
Becker was born in American. In 1972, he went to Bennington University, where he graduated with a degree in Arts (ceramic and photography). This explains why he likes meditation. He later joined Dartmouth College, Amos Tuck School of Business Administration. It was through his learning that he acquired business skills and ideas.
ARTHUR BECKER AS A BUSINESSMAN
Arthur's journey of becoming a successful real estate developer is traced back to 1986. He worked at Bear Stearns Company, Inc as a stockbroker and later as the company's director. However, the company failed in 2008 and was later sold to JPMorgan Chase. Before it was sold, the company dealt with investment banking, global clearing markets, capital markets, and wealth management.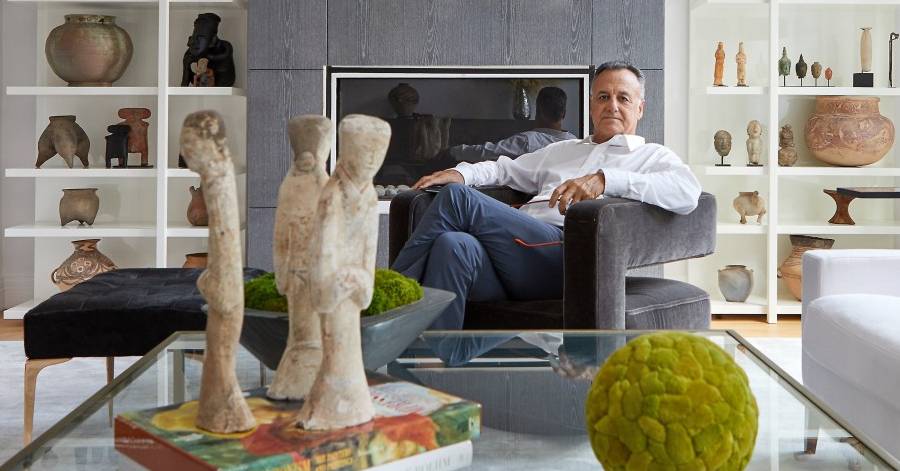 Source: wsj.net
He then invested and developed a sports binocular company Bnox and macadamia nut farm, Hawaii. Then, in early 2000, Arthur Becker started buying technology companies through Atlantic Investors and ClearBlue Technologies. 
Arthur Becker is the former chairman and CEO of Zinio, the largest digital newsstand globally. Before that, he was also the CEO of a NASDAQ quoted company, Navisite, from 2002-2010. Navisite offers internet technology services, collocation, and hosting to businesses in the UK, India, and the US. If you have heard of cloud-based application management and data center hosting, then that is what Navisite Company offers to the enterprise market. 
Arthur Becker's experience in real estate and technology while working for the two companies, Navisite and Zinio, helped him expand his real estate interests. He then decided to invest in condo developments in Miami, Florida, and New York City. While looking at his interests and experiences, there is something more than just Navisite and Zion Skills. Yes, he has also worked in other early biotech companies. The evolving paradigms he observed in the biotechnology sector, and substantial economic opportunities have helped him understand its impacts on people's lives. 
Arthur Becker can come up with more ideas when he works with people that he respects. In an interview with ideamensch.com, he says, "I find that I am most effective when I work with people that I respect—in real estate or technology. Real estate is fascinating as the various stages of development are so different—from the entitlements, design, and financing stage to the actual construction and marketing. Organizing and coordinating the work of experts and other talent is when I am most effective."
He also believes that the biggest challenge he has learned from his entrepreneurial outings is balancing passion and driving with critical thinking. "For my entrepreneurial outings, I have found that the biggest challenge has been to balance the passion and drive with critical thinking. The challenges posed within a startup are the fascinating mix of clarity of vision, unrelenting drive, passion to engage and lead your colleagues but also, the critical thinking to judge how to adjust the vision, the strategy, and sometimes, the people." However, it is a habit that has made him more productive as an entrepreneur.
As of 2021, Arthur P Becker is the CEO of  OncoPep. It is a cancer vaccine company currently doing Phase III trials for Triple Negative Breast Cancer. He is also VidgenX chairman of the board. Visgenx deals with "Dry" Age-Related Macular Degeneration(Dry AMD). In addition to all those positions, he is a managing member of Madison Partners, LLC and a partner in CoBro Ventures.
ARTHUR BECKER IN MADISON PARTNERS.
Arthur P Becker is the Managing Member of Madison Partners, LLC. Madison Partners is an investment firm that focuses on real estate and other early-stage Biotech ventures. The idea of Madison LLC came back as a result of his experience in the real estate and technology companies.
"During my tenure at NaviSite and then ZINIO, I became very engaged in both technology and real estate. Having sold NaviSite in 2011, I chose to expand my real estate interests by investing in condominium development in New York City and Miami, Florida. I have also become exposed to several early-stage biotech companies and became fascinated by the evolving paradigms in biotechnology and the combination of substantial economic opportunities and the potential to make a significant impact on people's lives," he told ideamensch during an interview. 
Source: rew-online.com
According to Arthur Becker, talent is the key to success. The strategy used has to reflect the line of your business. He says, "Strategy needs to be reflective of the business vertical. In a broad context, talent is the key to success: identifying the talent, persuading talented people to your vision or that of the business, and then getting out of the way.
ARTHUR BECKER AS AN INVESTOR
Arthur Becker has added more assets than his net worth. Though Arthur is currently into real estate, he has also invested in different industries. In addition, he has developed various platforms that keep generating his income daily. 
Source: facebook.com
Becker's investment is jetted back to the 2000s when he began buying companies through ClearBlue Technologies AND Atlantic Investors. In 2012, he invested in ten Sullivan Street Soho and purchased 465 Washington Street, Tribeca. His investments did not end there. In 2016, he also purchased 30,40, 50 Sullivan Street, 111 west 57
th
street together with the Property Markets Group and JDS development group. He also bought other real estate projects in Miami and New York. In March 2017, he announced redesigning the 8-unit apartment in Tribeca.
ARTHUR P BECKER'S PERSONAL LIFE
When it comes to Arthur Becker's personal life, then you must be wondering if he is married. Yes, Arthur Becker was once married to designer Vera Wang. Arthur Becker's Vera Wang is a fashion designer based in New York City. Popularly, she is known for her red carpet and wedding collection designs. Wang is the owner of Vera Wang Company. Arthur was the senior advisor of Vera Wang Company for seven years, and their partnership made the couple more popular.
Source: nydailynews.com
Arthur Becker and Vera Wang dated for a few years before tying their knot in an Interfaith Baptist and British Ceremony back in 1989. After their wedding, they moved to Manhattan and adopted two children, Josephine Becker and Cecilia Becker. However, in July 2012, their 23 years relationship ended, but Arthur Becker still works with the company. 
Apart from his business lifestyle, Arthur Becker also likes meditating. Yes, it is his passion. While at Bennington College in 1972, Arthur Becker graduated with a degree in Ceramics and Photography.  After one year in a Yoga retreat, Arthur lived in Bennington, Vermont, built a construction company that demolished the 18th-century houses, and constructed them again in a new location. However, his journey made him take another turn from arts and culture. A year later, he went to a monastery in Hawaii for meditation and ritual. He then channeled his career path to business and came back to arts in the 1990s.
FREQUENTLY ASKED QUESTIONS ABOUT ARTHUR BECKER
Arthur Becker and Vera Wang: Attention to Detail is a "Biography" TV show cast in 2001. It featured Cindy Crawford, Sonya Dunfield, Peter Dunfield, Arthur Becker, and Vera Wang and was directed by Amy Huggins.
Source: nypost.com
Does Arthur Becker have a family?
Arthur Becker has a family, but he has kept his family information away from the media. He prefers to keep his family details private. Even during the interviews, he has never said anything about his family. Come to think of it; maybe he has sisters and brothers who are doing great like him. 
How much is Arthur Becker worth?
As of 2021, Arthur Becker is worth $700 million. He acquired his wealth from his career as an investor. He is also earning income from his social media accounts like Instagram and Facebook posts.
How old is Arthur Becker?
Arthur Becker is currently 60/70 years old. He was born around 1949/1950. Arthur Becker's exact details concerning his height, weight, and age remain hidden from the public.  
Is Arthur Becker still married to Vera Wang?
NO. Arthur Becker and Vera Wang are not married. Their 23-year marriage ended in 2012 with a divorce. Since then, there is no update concerning Arthur Becker being in any romantic relationship. He is presumably still single.
ARTHUR BECKER SOCIAL MEDIA PLATFORMS
Twitter: Click here to check Arthur Becker Twitter Page
Instagram: Click here to check out Arthur Becker on Instagram
Youtube: Click here to check out Arthur Becker Youtube channel
Facebook: Click here to check out Arthur Becker Facebook page
Pinterest: Click here to check Arthur Becker on Pinterest
LinkedIn: Click here to check Arthur Becker on LinkedIn
Wikipedia: Click here to check out Arthur Becker Wikipedia page